The Password Quandary
Passwords have been around seemingly forever. Try as we may, there seems to be no way to remember them all so we do things like use the same one everywhere. That is easy to remember but makes us vulnerable on many levels. Someone gets our Facebook password and now they know the password for out bank account!
The most popular passwords are 123456, password, 111111, iloveyou… and are still used. We also get creative with long passwords with a series of letters and numbers and special characters for no logical reason.

Password creation has become a complicated process. We have hundreds of them and remembering them is a disaster for many of us. So we resort to notebooks filled with them or get one of the many password managers like KeePass or LastPass to manage the list. Some just create a text file listing them or save them on their cell phones.
A friend suggested a better way. He asked me if I would like having one that is different for each website and yet always remembered? What a great idea.
The Secret Word
Years ago a TV star, Groucho Marx, had a show a called You Bet Your Life and if the contestants said the "Secret Word" they would win one hundred dollars. The key to this password method is also a secret word.
Use the first letter of the site you are creating the password for and capitalize it. Use the last letter of that site as the last letter of the password– lower case. So, if the site is Amazon start with "A" and end with an"n".
Your secret word is what you place in between and will be the same for any site you use and should be at least six characters (upper or lower case), contain a special character, and a number. I like to substitute numbers for obvious letters– 3 for E, 0 for o, 1 for i, 8 for B, and $ for the letter "S", etc.
Perhaps your dog's name is Snoopy. You could use "$n00py" which satisfies all the requirements and the password for Amazon would be "A$n00pyn". The password for Staples would then be "S$n00pys". Simple, but useful.
The longer your secret word, the longer it will take for it to be cracked. SnoopyDog will take longer than Snoopy. As long as you can remember it, the length does not matter. Most sites require at lease eight characters or more. To check how secure your new password is you can check with a number of online sites. The one I like to use is by Gibson Research.  A$n00pyDogn will take 1.83 years to crack while A$n00pyn can be cracked in 1.12 minutes according to Gibson.
One Password For All
All you need to remember is your secret word and you now know the passwords for all the sites you use. They will not change by themselves. To update your old passwords, you will have to open each site with the old password and locate its change password section.
Once you have made the transition to the new password approach, you will never have to resort to a list or a look-up again. Away from your home and need to access a site? No problem, you know the password.
What About My Windows Password?
We have been plagued with the requirement to enter a password to start Windows forever. Some have gotten around this by not entering one during setup. They just tap the Enter key and Windows opens for them. 
Having to enter a password every time you start your computer can be a bother. You can avoid that by having it automatically entered for you.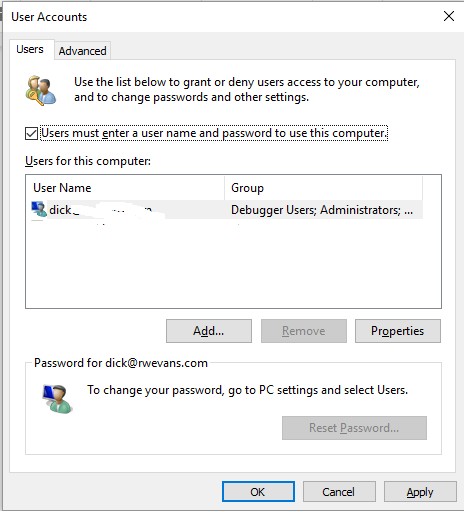 Hold down the Windows key and tap R (Win+R) to open the Run dialog box
Type netplwiz, then click OK
Uncheck the box next to "Users must enter a username…"
Click Apply
Type your current password twice
Click OK and then OK again

The next time you turn your PC on it will enter the password for you and take you right to the desktop. You do not even have to tap the Enter key.
Instead of bypassing the password requirement, you can assign a PIN and use it to sign in instead of that password. However, it is IMPORTANT that you remember your password. Write it down somewhere so if you need it to log in sometime in the future, you will have it.
—