AnyRecover Data Recovery
Winners Announced!
[message type="info"]
Hovsep Avedissian
Jeremy Gray
Witold Butwilowski
Martha Lindquist
David Stark
This contest has now expired. Winners will be notified by eMail
Congratulations to the Winners and Thank You to everyone who participated!
[/message]

iMyFone has been kind enough to give our readers a chance to win a copy of their AnyRecover program. They have generously given us five licenses for this giveaway contest. There is a free trial version of this program available but it will only recover three files. Basically, this is provided to give you an idea of how well the software will work for you.
Offer recovery support for over 1000 different formats including pictures, images, videos, documents, audio files, emails, and archives.

Recover files from critical data loss from all mediums: Digital Cameras, Memory Cards, Camcorders, Mobile Phones, Flash Drives, Hard Drives, etc.

Recover the lost files without overwriting any other files, thereby 100% protecting other files from being overwritten. ~ iMyFone
Feature List
There are many instances where accidental deletion of important files can be devastating. Here is a short list of some of the ways AnyRecover can save your bacon during these dire times:
Accidental file deletion
Recycle Bin deletion
Accidental drive format
Partition loss
External drive recovery
Data loss due to Virus/Malware
Operating System failure
These are only a few nasty scenarios where data recovery software can come to the rescue.
Ease Of Use
AnyRecover is very easy to use. It is basically a three-step process:
Choose the type of recovery you would like to perform
Choose the types of files you would like to recover
Recover the ones you've chosen
Main Screen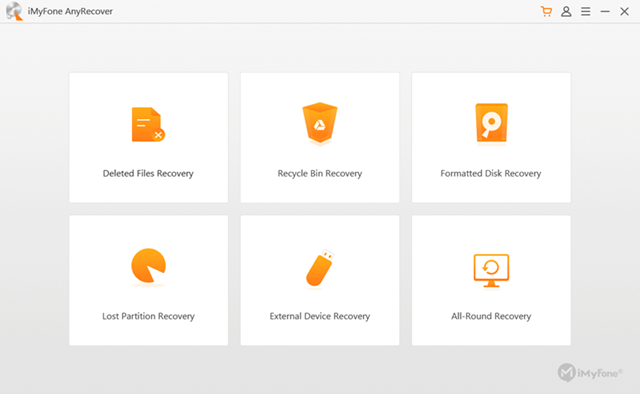 This screen is what you'll see when you first run AnyRecover. For the purposes of this exercise I chose to run Deleted Files Recovery.
Choose Location Screen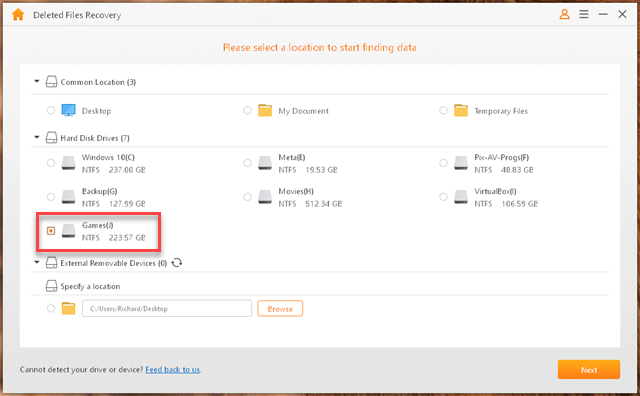 I chose my Games folder. I figured there would be lots of stray stuff left behind by Steam. Files get deleted and replaced here all the time.
Choose File Types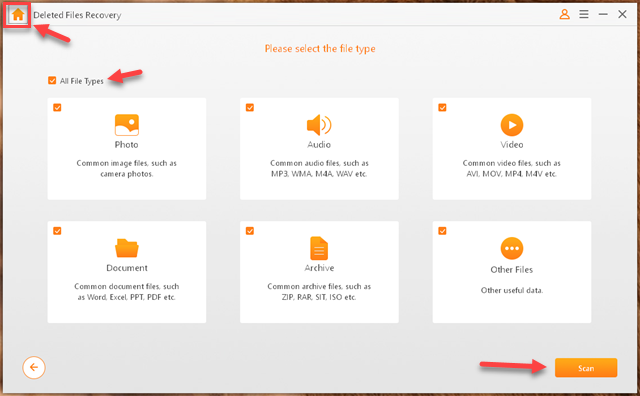 I chose all file types for this article. I was curious how many AnyRecover would find and how long it would take to run the scan. I was not to be disappointed in either case.
If you decide to change settings, you can click the little Home icon in the upper-left corner. This will bring you back to the Main Screen
You can choose All File Types or you can select specific ones at this point
If you want to go back one step only, you can click the little Back Arrow icon in the lower-left corner of the window
If you are happy with your selections, click the Scan button in the lower-right corner of the window
Scan Results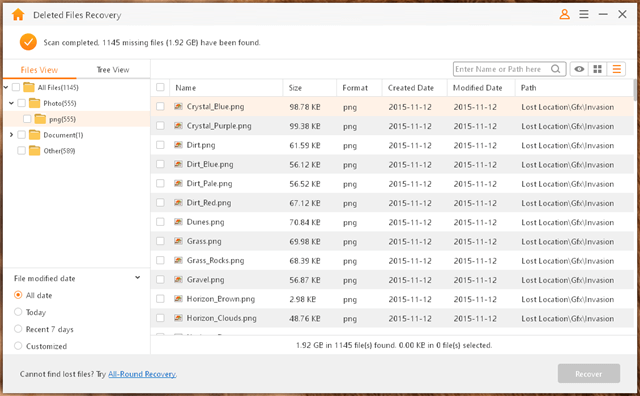 I've used data recovery programs in the past and my experience has been that the scans took quite some time to complete. AnyRecover found over 1100 files in about 10 seconds– astounding!!
There's a little link at the bottom of this window suggesting that you try All-Round Recovery if you haven't found the specific files you are looking for. I went ahead and clicked it and AnyRecover started running what appears to be a "deep scan" and this did take longer, but it was still only about four minutes. It found many more files this time around and four minutes is nothing compared to other programs I've used which will sometimes take an hour or better.
Conclusions ?
Judging from my limited experience with this program it would seem that AnyRecover is not only easy to use, but is also lightning fast. There was only one odd bit of behavior that I can't understand. The AnyRecover program opened on my third monitor and there was no way to move it. I couldn't move it to another monitor nor could I "grab" it in any way. Very strange, indeed. Perhaps iMyFone will address this in a forthcoming patch?
Other than that small quirk, I can recommend AnyRecover without hesitation.
How To Enter The Contest
We'd appreciate it if you'd take a moment and submit a comment telling us why you'd like to win AnyRecover. However, submitting a comment is not required to enter this contest and will have no bearing on your chances.
For your chance to win, simply enter your name and valid email address in the spaces provided below, then click Enter Contest. After your entry is accepted you will be presented with options to share the contest on Twitter and/or Facebook. For each person who enters the contest as a result of your share, you will earn two (2) extra entries!
Sharing the contest on social media is completely voluntary, but is encouraged.
Competition Rules:
To enter, simply submit your name and a Valid email address. Your address will not be shared outside of this site


You must submit a VALID email address. We need to contact the Winner, so disposable email addresses will not be eligible

Additional entries may be earned by voluntarily sharing on Facebook and/or Twitter

Shortly after the contest ends, the winner(s) will be chosen at random

Winner(s) names will be posted on this giveaway page. Please check back here to see the winner(s) name announcement!
The winner(s) will be notified by email at the email address used to enter the contest – be sure to use a valid email address that you check regularly
Winner(s) must claim their license within five (5) days. After the five (5) day period, unclaimed prizes will be distributed at DCT's sole discretion

Entrants agree to allow DCT to communicate with them via email using the address provided by the entrant when entering the contest
[contesthopper contest="85947″]
Good luck to everyone!!
—