It is very easy to insert page numbers in earlier versions of Word. You simply open the header or footer and click the appropriate options on the Header and Footer toolbar. The Page Numbers option is also available from the Insert menu.
It is still easy to perform this task in Word 2010, but you have to know where to find the options!
Follow the steps to learn how:
On the Insert tab, in the Header & Footer group, click Page Number.
Even though this option is in the Header & Footer group, you can also select Current Position to insert a literal page number almost anyplace in your document. You are not limited to the header and footer sections.
Another option is on the Insert tab, click Header or Footer from the Header & Footer group. The resulting gallery will offer a number of pre-defined page numbering options, although none of them offer the Page x of y format.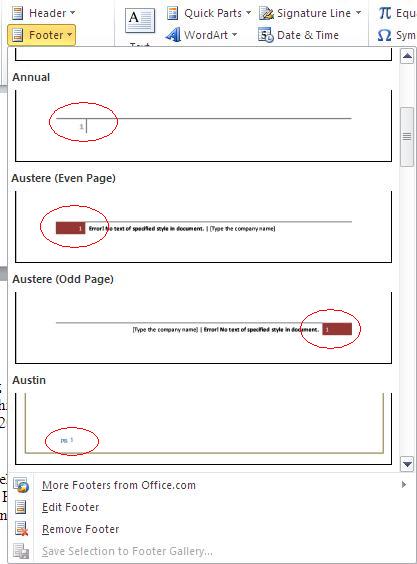 If you want to insert page numbers using fields, you would use Quick Parts. You will find this option in the Text group, which is also on the Insert tab. From the Quick Parts drop-down list, select Field.
After you select Field, specify one of the page numbering fields: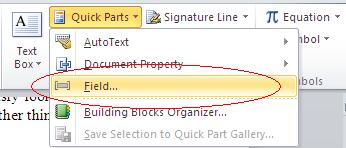 Page and NumPages. You can combine these to create the form Page x of y. This method most likely looks familiar to you but finding it via the Quick Parts is new to Word 2010. Although it is an appropriate area, it may not be the first place you would look.