Privacy Badger is a relatively new anti-tracking browser add-on coming to us from the EFF (Electronic Frontier Foundation). Privacy Badger is similar to but inherently different from other anti-tracking and ad-blocking add-ons such as Ghostery, Adblock Plus, and Disconnect.

Privacy Badger is a browser add-on that stops advertisers and other third-party trackers from secretly tracking where you go and what pages you look at on the web.  If an advertiser seems to be tracking you across multiple websites without your permission, Privacy Badger automatically blocks that advertiser from loading any more content in your browser.  To the advertiser, it's like you suddenly disappeared.
Privacy Badger is NOT an ad blocker per se and doesn't automatically block all ads but rather monitors and adapts to third-party tracking activity as you go. If a third party is engaging in activity that is deemed to be invasive of privacy, then both their cookies and ads are blocked.
What sets Privacy Badger apart from the rest is that is doesn't rely on any pre-defined universal blacklist but rather builds its own blacklist as it goes along based on heuristics (behavioral based rules). This means that Privacy Badger is constantly learning and growing more and more effective. Out of the box, Privacy Badger won't block as many third-party requests as other similar add-ons, but as you use it, the more it will learn and the more it will block.
This learn and adapt approach also means that the expanding blacklist is built on each individual user's surfing habits, providing a personalized privacy defense without requiring any user configuration. However, Privacy Badger does come with a whitelist of known good and reputable sites as well as manual options for individual sites:
Privacy Badger – Download and Usage
Privacy Badger is available as an add-on for Firefox and Google Chrome, here: https://www.eff.org/privacybadger. It's still in Beta mode so liable to include minor bugs, but I've been using it in Firefox for over a week now with zero issues. It also appears to have had no discernible negative effect on browsing speed or site rendering.
Privacy Badger plonks a new icon at the end of the browser's address bar but there is absolutely zero popups or user decision making involved. The icon is inactive until clicked on and then displays information relative to the current site: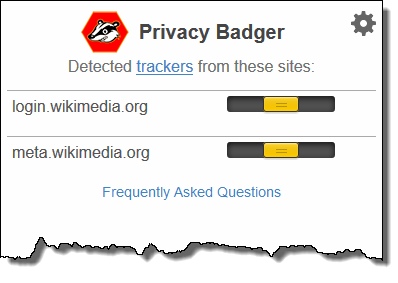 Privacy Badger utilizes a color coded system of reporting, described by the developer thus:
Green means there's a third party domain, but it hasn't yet been observed tracking you across multiple sites, so it might be unobjectionable. When you first install Privacy Badger every domain will be in this green state but as you browse, domains will quickly be classified as trackers.
Yellow means that the third party domain appears to be trying to track you, but it is on Privacy Badger's cookie-blocking "whitelist" of third party domains that, when analyzed, seemed to be necessary for Web functionality. In that case, Privacy Badger will load content from the domain but will try to screen out third party cookies and supercookies from it.
Red means that content from this third party tracker has been completely disallowed.
Bottom Line
As opposed to most other blockers, Privacy Badger is developed by a nonprofit, which means its emphasis is entirely on efficacy. It is also different from similar blockers in that it utilizes a user-generated blacklist, blocking objectionable behavior as you browse, rather than relying on the centralized blacklist approach.
I really like the concept… highly recommended!