Are you an OpenDNS user?Did you know that OpenDNS released a free program for both Windows and Mac which adds an extra layer of security to your online activities? It's called DNSCrypt… and OpenDNS describes it thus:
DNSCrypt is a piece of lightweight software that everyone should use to boost online privacy and security.  It works by encrypting all DNS traffic between the user and OpenDNS, preventing any spying, spoofing or man-in-the-middle attacks. DNSCrypt has the potential to be the most impactful advancement in Internet security since SSL, significantly improving every single Internet user's online security and privacy.
OpenDNS has a well-earned reputation for safety and security, so if they come up with a product which claims to enhance online security, one tends to take notice. Download for Windows is a mere 1.05MB executable which, as one would expect from a company with a sterling reputation for security, scans 100% clean through Virus Total. Installation is also clean and straightforward.
DNSCrypt places an icon in the system tray which provides right click access to two basic options; Open Control Center or Exit.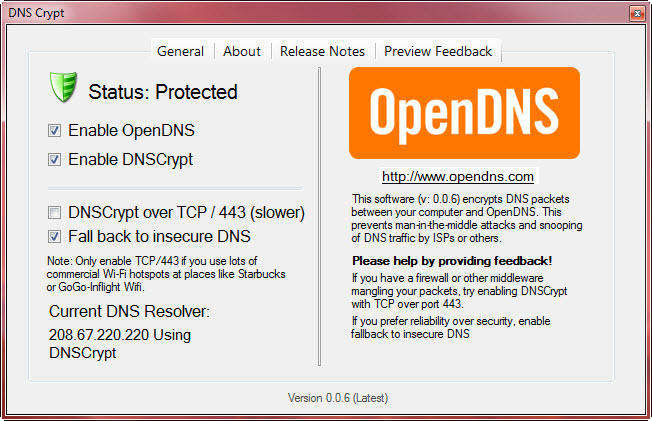 I've only been utilizing DNSCrypt for a very short space of time but have not experienced any lag or slowdown in connection or browsing speed to date. If you are interested in trying DNSCrypt yourself, I suggest you read through OpenDNS's introductory article first, which includes download links and a FAQ section, here: http://www.opendns.com/technology/dnscrypt/
**One important note: DNSCrypt is currently a "Preview" release and still under development:
DNSCrypt is immediately available as a technology preview.  It should work, shouldn't cause problems, but we're still making iterative changes regularly.
To be on the safe side, I advise creating a system restore point prior to installation.
OpenDNS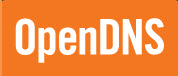 For the uninitiated; OpenDNS provides an alternative DNS service to that of your ISP (Internet Service Provider). As per Wikipedia:
"OpenDNS offers DNS resolution as an alternative to using Internet service providers' DNS servers. OpenDNS extends DNS (Domain Name System) adding features such as misspelling correction, phishing protection, and optional content filtering. The OpenDNS Global Network processes ~45 billion DNS queries daily from 50 million active users connected to the service through 19 data centers worldwide."
You can view a guide on how to setup OpenDNS here: http://use.opendns.com/ (refers to Mac OS X, Windows XP, Vista, and Windows 7).
IMPORTANT FOOTNOTE: The version of DNSCrypt on offer under the OpenDNS GUI has been brought into question. Apparently, it is an older beta version which was released for testing purposes only. I strongly advise anyone interested in utilizing DNSCrypt to read through Frank's enlightening comments under… Thank you Frank.

In the meantime, I've sent an email off to OpenDNS asking them why they continue to offer outdated software. Will report further if and when I hear back from them.