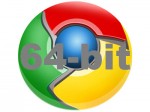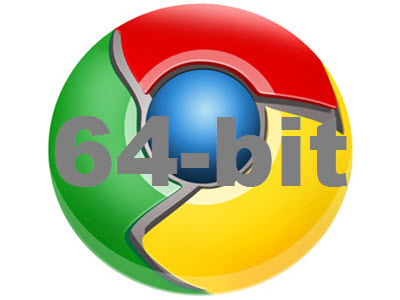 At long last the much anticipated stable version of Google's 64-bit Chrome browser is available for download. According to Google, the 64-bit Chrome edition excels in three areas; it is faster, more secure, and more stable… but then Google would say that, wouldn't they.
Both Mozilla and Google have been working on 64-bit versions of their browsers for some time now but, unlike Mozilla's 64-bit Firefox (which seems to be destined for the scrapheap), Google has delivered on its promise. Google initially released the 64-bit build of Chrome through its public alpha testing channels back in June. Three months of testing later, and it appears the 64-bit build of Chrome has passed muster with the first stable version (37) now ready for the masses.

How to Upgrade from 32-bit Chrome to 64-bit
At this stage there doesn't appear to be any option to upgrade from within an existing 32-bit Chrome so you'll need to download the 64-bit installer, here: https://www.google.com/chrome/browser/?platform=win64 (make sure "For Windows 8/7 64-bit" is shown beneath the Download Chrome button).

The good news is that the 64-bit version automatically installs over the top of an existing 32-bit Chrome, although this means that the data then remains in the 32-bit orientated "Program Files (x86)" folder.
How to Tell if You're Running 32-bit or 64-bit Chrome
To make sure the installation (or overwrite) completed correctly and you are indeed running the 64-bit version:
Click on the settings icon at the far right of the address bar…

… and then click About Google Chrome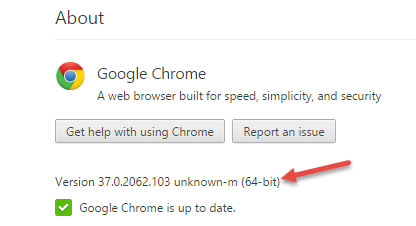 Data, such as bookmarks and extensions, will be carried over to the new browser, although there have been reports of a lack of support for 32-bit NPAPI plug-ins. However, with the exception of a few lesser-known plug-ins, most major plug-ins such as Silverlight, Java, and Flash have all been updated to 64-bit.
Chrome 37 also introduces DirectWrite support (Windows only) for smoother and faster font rendering, plus a number of other improvements and security fixes.