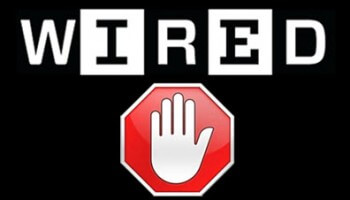 Very recently we published an article discussing how site owners are fighting back against the proliferation of ad blocking software, you can catch up with that article here: Adblocker Blockers Fighting Back. In the article I warn of the potential negative effects caused by ad blockers and how this might change the very face of the Internet as we know it.
Now, news has just come to light of yet another major site taking steps to overcome the blocking of ads. The site is Wired.com and, although the plan has yet to be implemented, it will include two options for users to be able to access the site's content:
Simply add WIRED.com to your ad blocker's whitelist, so you view ads.
Subscribe to a brand-new Ad-Free version of WIRED.com for $1 a week.
Wired explains its position in a recently published announcement titled How WIRED Is Going to Handle Ad Blocking, which includes the following:
We know that you come to our site primarily to read our content, but it's important to be clear that advertising is how we keep WIRED going: paying the writers, editors, designers, engineers, and all the other staff that works so hard to create the stories you read and watch here.
Soon, users won't be able to access any online content from the popular tech publication unless they stop blocking their ads, or pay for the privilege of seeing no ads. Now, this may appear as though I am harping but these two stories came to light literally within days of one another which, in my opinion, tends to emphasize just how serious this situation is becoming.
One simply cannot argue with Wired's logic. It does indeed cost a lot of money to maintain a site's infrastructure, and when the  revenue stream is diminishing to an extent where it no longer supports overheads, steps have to be taken. In its announcement, Wired acknowledges the legitimate reasons why so many millions of people use ad blockers and merely points out that the service they provide incurs a cost, which, of course, needs to be recouped somehow.
Personally, I see Wired's approach as being very reasonable. What do you think – is Wired's response to ad blocking acceptable? Would you choose to disable ad blocking on the site or opt to pay the $1.00 per week for an ad-free experience?