A few weeks ago I reviewed a number of free programs specifically designed to record screen activity for demos, guides, etc… Screen Recorder Freeware: which is the best choice?… none of which really came up to the mark and some of which were just downright awful. At that time I mentioned ActivePresenter, a program from AtomiSystems which has been attracting favorable user comments but one which I hadn't yet tested. I also promised to take ActivePresenter for a test drive and report back – well I did and here is the result:
Compared to the alternatives in the genre, ActivePresenter is not a small program – download is 36.6MB installing to 83.4MB. But, once you see the features included in this outstanding software, you can fully appreciate the 'additional' megabytes. ActivePresenter is truly impressive, by far the best of those tested to date, and the beauty of this program is; even though it is obviously designed with the serious user in mind, the pre-set defaults and intuitive GUI make it a piece of cake to use, even for novices.
Installation is clean and free from bundling or unwanted extras. During installation ActivePresenter did mention that it was adding itself to Windows Firewall exceptions – however, I'm almost certain that would be connected to the program's automatic update feature.
ActivePresenter's initial interface is simple enough, offering just three main options:
Selecting "Open" provides access to existing projects. "New Capture" is the primary option which will initiate the capture process:
"New Project" is pretty much the same as "New Capture", except with several additional options available via a left hand panel: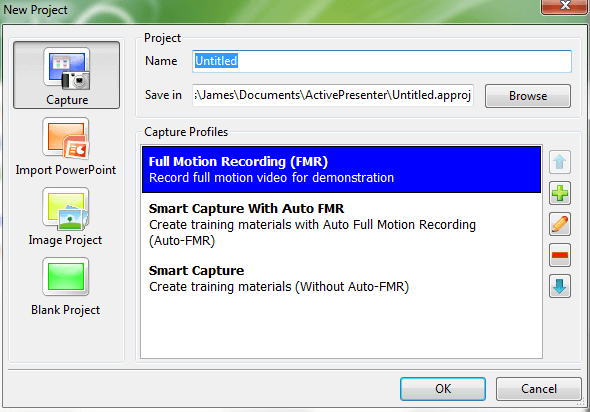 I selected 'Full Motion Recording' which opens a new window with several capture options available via a dropdown menu, plus details of the default profile:
I'd previously launched DVDShrink in anticipation, so elected to 'capture a running application window'. A green border immediately appeared around DVDShrink signifying the capture area. Going through the process again, this time with several applications running, ActivePresenter correctly identified all active windows and offered an additional option to select the desired application.
Now we come to the actual capture process itself and this is where I encountered one minor negative; capturing is almost instantaneous with zero warning, there is no countdown, no 'Go' button. A message appears… 'Preparing, please wait'… for the briefest of moments and then recording automatically begins. So, the user needs to be on their toes. Starting the capture process does initiate a system tray icon with options to Pause, Stop, or Discard the current capture but even that requires a left click before those options are available:
Even though every aspect of ActivePresenter is highly customizable via a plethora of preferences and options I could find no way to amend this behavior. This is the one and only area where I believe the software could be improved: include a pre-recording warning system of some kind and display the system tray options automatically.
Once you hit the 'Stop' button, that is when ActivePresenter really gets interesting: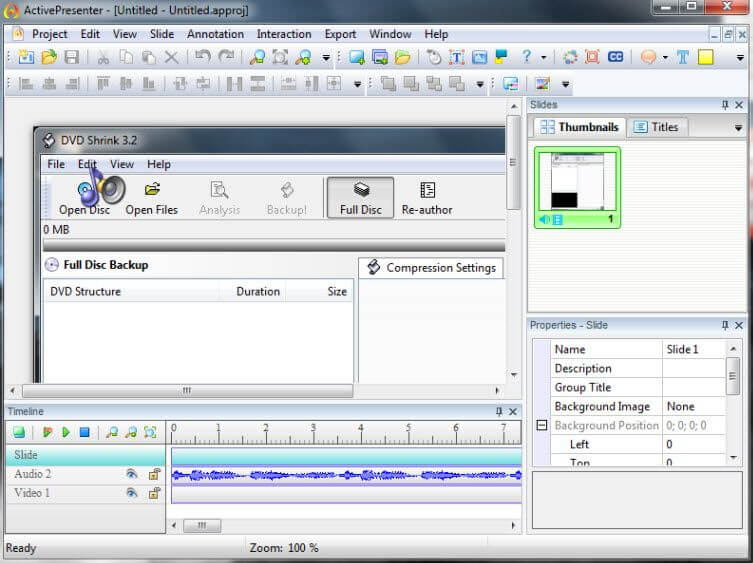 There are so many options it would be nigh on impossible to enumerate them all here. Suffice to say, this is very professional screen recording software with more than enough features and settings/customizations to satisfy even the most discerning user. Here are of just some of the options available from the 'Annotation' menu:
Perusing through the program's 'Preferences' reveals a myriad of further options and customizations including; adding transition effects, fade-in/fade-out, and setting audio sample rate/bit rate. To say that ActivePresenter is highly customizable is actually a gross understatement.
I elected to export my one minute demonstration to video and was then presented with options to adjust the video and audio settings, plus choose a format. Note the 'Video Size' option which can be utilized to produce smaller output file sizes:
Saving to AVI format at default settings, including 100% video size, produced a 3.2MB file in just a matter of seconds. Selecting WMV, under the same conditions, produced a 4.8MB file in roughly the same amount of time. Both displayed amazingly high quality, video and audio, through Windows Media Player. I specifically created a capture which was one minute in duration to help ascertain resulting file sizes on a minute to megabytes basis. From there it's a pretty simple task to extrapolate approximate file sizes based on duration.
I have barely touched the surface here but there is no doubt in my mind ActivePresenter is the standout in its field, no other freeware even comes close. The free edition does not involve any time limitations or watermarking, in fact differences between the Free version and Commercial versions are fairly negligible, mainly affecting export options – view a Full Feature Comparison Chart.
Active Presenter Free Edition HOME PAGE (including sample video)
Unfortunately, the download appears to be locked in to CNET download.com.
NOTE: One area of confusion: ActivePresenter Free Edition appears to include some features which are listed as unavailable in the feature comparison chart. For example; I tried exporting to FLV format from the main menu, which is supposed to be unavailable yet worked perfectly. As you can see from the previous screenshots, Importing from PowerPoint is also clearly available yet isn't listed as such. Checking under the 'About' menu revealed this: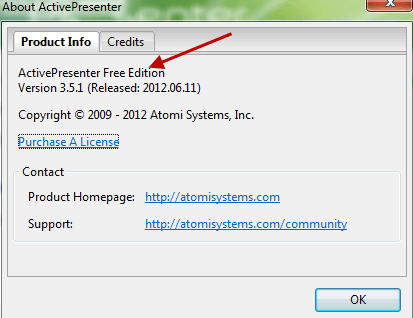 So, not sure if maybe those 'additional' features are available only for a limited time or AtomiSystems have made an error. Maybe someone with more experience with the product could kindly advise… or indeed, if a representative of AtmomiSystems happens to read this, maybe they could kindly clarify for us.