In 1993, Microsoft released the Windows NT 3.1 operating system.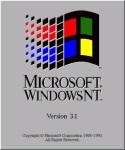 Windows NT 3.1 was the first version of Windows NT. Unlike Windows 3.1, Windows NT 3.1 was a 32-bit operating system written from the ground up.
Learn more at http://toastytech.com/guis/nt31.html.
In 1988, Radio Shack announced the Tandy 1000 SL computer.
The Tandy 1000 SL featured an Intel 8086 processor running at 8 MHz and 384 KB of RAM. It had a performance increase over the earlier 8088-based Tandy 1000s due to the 8086 processor's 16-bit bus coupled with a slightly higher clock speed.
Learn more at http://en.wikipedia.org/wiki/Tandy_1000#Tandy_1000_SL.2C_SL.2F2.2C_TL.2C_TL.2F2.2C_TL.2F3.