First off I want to clarify that we are talking about screen recorder software here, not screen capture software. Unlike screen capture software, which only works with static images, a screen recorder tracks and records motion, generally including audio (voice over), and saves the results in video format. Some screen recorders also include the single frame 'capture' facility of course but they are primary designed for recording screen activity. These types of applications are invaluable for creating demos and guides, and to assist with reporting issues/errors.
I thought it might be a worthwhile exercise to test out some of the more prominent free offerings and, hopefully, ascertain which might be the best choice. It turned out to be an exercise in frustration and futility; the majority don't appear to work particularly well, are generally buggy, often difficult to configure, and overall amateurish. Why someone cannot just design a simple, basic screen recorder which is easy to use, including optimal default configuration and suitable codec, is beyond me. It's obviously a lot more difficult than it sounds.
Anyway, what follows is a summary of the results from my testing for several popular titles in the genre:
BBFlashback Express: Undoubtedly the best of those I tested. Fairly easy to us, although the actual saving of the video at the end is a tad convoluted – put that down to the nice variety of publishing options available. Very good results, including good quality audio (a rare event in these types of free applications). According to the BBFlashback Features page, there is no limitation on recording times but there is a limit on file size – which, if you ask me, amounts to pretty much the same thing. Still, considering most users would be creating only relatively short presentations, probably not a matter for concern. What does disadvantage BBFlashback Express somewhat, and is also the cause of numerous user complaints, is the constant nagging to upgrade. That plus compulsory registration after the one month trial period expires (it does remain free). The distribution model certainly points to an ongoing publicity campaign – in order to download the free version you need to first submit an email address, a unique download link will then be sent to you via email. If you can discount the compulsory registration and nag screens, BBFlashback Express is definitely the pick of the bunch.
CamStudio: Appears to be a popular choice, even though the current version dates back to the end of 2010. Reasonably easy to figure out and use BUT… no audio!! As far as I am concerned, recording voice over (or commentary) via microphone is an integral part of creating presentations. CamStudio does include a feature to simultaneously record audio but it does not appear to be working. I've read reports regarding this bug from Vista users and I could not get the feature to work in my Windows 7 64-bit system either – the audio apparently works fine in XP. So, for Vista and Windows 7 users (64-bit at least) this one would only be starter if you weren't bothered by the lack of audio or voice over. Not for me.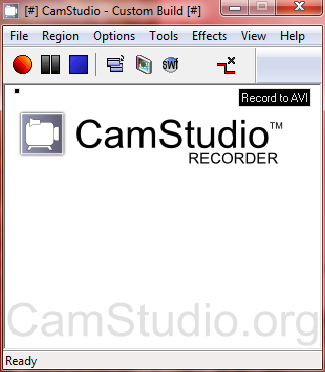 Jing: Comes from Techsmith, the makers of the excellent but expensive Camtasia Studio. Jing is pretty weird, there's no interface as such, just a system tray icon and golden orb which sits unobtrusively at the top of the screen. I couldn't test Jing properly because every time I pressed the "Capture" button it crashed. However, there are several aspects/limitations involved which render it totally undesirable anyway, for me at least: Jing limits recording time to 5 minutes max – probably long enough in most instances but it is right on the cusp. Jing only saves video in SWF format for publication on the net – to this end, the user must create an account with TechSmith's Screencast.com. I guess Jing would have its uses, and admirers, among the social media set but it is definitely not your serious tool.
A couple of newer and lesser known applications:
Desktop2Record (from Leelu Soft): I found this one to be just awful – buggy and difficult to use, it's all over the place. It also comes bundled with the Babylon Toolbar selected for installation by default. Yes, the user can remove the checkmarks thereby declining the installation but I'd be a lot happier if it was opt-in rather than opt-out. No!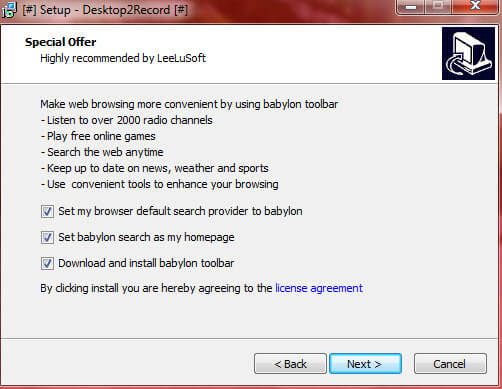 So, outside of BBFlashback Express with its nag screens, and CamStudio for XP or those who don't require audio, there are very few viable alternatives. Perhaps a rare instance where the serious user must look outside the realm of freeware and dig into the wallet.
*NOTE: One free application which has received favorable user comments is ActivePresenter from Atomi Systems. To be honest, by the time I got to this one I was pretty much deflated and running out of time, so I didn't test it at all. However, ActivePresenter does include a very full feature set and I plan on installing, testing, and presenting a full review very soon. If ActivePresenter lives up to expectations it may well be the best of the lot. In the meantime, you can check out a full feature comparison chart between editions HERE.
Do you use free screen recorder software? Submit a comment and let us know your thoughts.