I have discovered the best Holiday gift for that person on your list that is hard to purchase for.  Keep in mind though, this takes "Unique" gifts to a whole new level.  Forget that monogrammed sweater or custom mouse pad, get a Selfie toaster!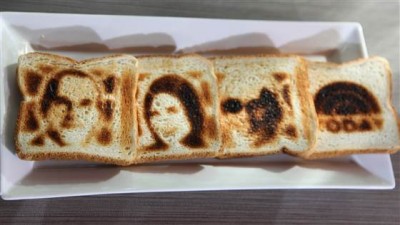 When I first read about this phenomenon I thought no way, what will they think of next?! This takes the whole idea of "Selfies" to a new level.  I personally am not a "Selfie" kind of girl and hate my photo being taken.  Often my family and friends tease me and say are you Amish or afraid of breaking the camera?  I think selfies are pretty vain if you ask me. Just think though you can truly indulge in narcissism by devouring your own  face or enjoy the face of a dear loved one.
After receiving a photograph, the toaster company prepares the image in Photoshop for 15-30 minutes, and then uses a computer-guided metal cutting machine to create a plate of your face. After finishing and polishing the plate, it's inserted into a toaster where, once heated, it can impart your mug onto bread (two selfie slices per "load", in fact).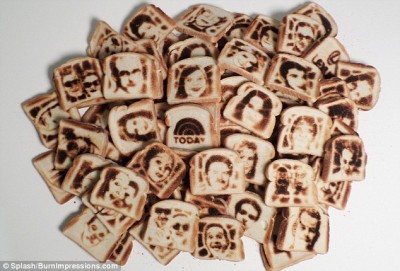 If you want selfie toast, it'll cost you $75 for the first toaster. They offer discounts if you plan on ordering more than one. Just think, toast with your face on it for everyone! Overwhelmed with the possibilities, but still want some creative toast? You can always opt for the company's classic designs, including a Jesus toaster.
Galen Dively, the owner of Vermont Novelty Toaster Corp., said the idea came to him four years ago, when high minimum orders and setup fees kept everyone but big corporations from having these personalized breakfast machines.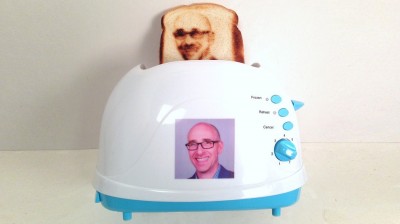 It's one thing to take a photo of yourself and Snapchat it to a friend in an earnest attempt at communicating something; it's entirely another to stamp that face all over the world around you, turning your kitchen into a nightmarish temple to yourself.
I am thinking this would be the perfect gift for my 3 kids ages 21, 22 & 23, a selfie of their mom on toast.  I think the look on their face when they opened the gift would be priceless!
Don't believe it? Check it out the video:
http://youtu.be/r19z6sUEl5w