It's a sad fact that women still only account for around 30% of the total technology workforce and, in many quarters, the role of women in tech industry trade shows and the like is still viewed more as an eye-candy factor rather than anything to do with providing technical expertise.
Most woman in technology who've worked a trade show booth will no doubt have experienced being bypassed by a man who is "looking to talk to someone technical", on the assumption that the woman is there purely to serve as "eye candy" and/or to restock the giveaway shelves.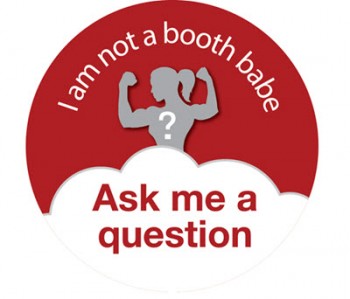 This perceived role of women as 'booth babes' at these industry events has recently been in the limelight, culminating in a simple campaign to challenge the dated stereotype of women in tech. It was kicked off by Jennifer Gill, director of global product marketing at Zerto and a 15-year veteran of the tech industry, who suggested a button for female staff members to wear at tech events which simply reads – "I am not a both babe. Ask me a question".
As with all neat ideas, the concept quickly expanded, with VMware blogger Hans de Leenheer printing buttons in different colors to hand out at tech shows. Now, women from various technology companies are wearing the buttons with pride, creating considerable buzz and subsequent discussion, both technical and button-related. The artwork has even been posted to a special website www.iamnotaboothbabe.com so "women don't need to hunt us down to get a button." <source>
Personally, I believe this excellent idea is a great way to help raise awareness and subtly challenge the traditional perception of women in tech. Can women cut it with men in the tech field? You betchya they can! During my years involved with DCT I've encountered many women whose technological knowledge and expertise have been second to none. And I'm proud to say that we have equal gender numbers among our team of experts – 3 men and 3 ladies.
Judy is an expert on all things Mac and iOS, if anyone knows more about Apple products than Judy, I've yet to come across them. Sherri devotes much of her time to teaching others how to work with and be comfortable with computers and technology. And Carol is one of the foremost Microsoft Office experts on the planet.
Go you girls!