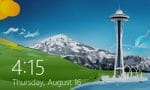 Last week's Windows 10 Quick Tips – Lock Screen article generated an uproar. I was accused of writing "click-bait", and was also told that I was being "short-sighted" where Windows Home edition users were concerned. Perhaps, rightfully so. I made the poor choice of excluding Home users because they didn't have access to the Group Policy Editor while there existed Registry tweaks that could accomplish the same task. Never again!
So… this week's Quick Tips article is going to try to make up for that blunder with a follow-up article providing the needed information to get rid of the Lock Screen nuisance by editing the Windows Registry. Proceed at your own risk…
[message type="warning"]
Standard Registry Editing Warning:
The following instructions will ask you to edit your Windows Registry. Be sure to make a backup of your Registry before you make any changes. Making mistakes in the Registry can cause hard-to-diagnose problems, or even keep Windows from functioning properly. If you don't know how to back up your Registry, please read Windows Quick Tips – Backup/Restore Registry.
[/message]
Ridding Yourself Of The Lock Screen
Use the Windows Key + R to open a Run Box
Type regedit and hit Enter
In the Registry Editor, follow this path: HKEY_LOCAL_MACHINE\SOFTWARE\Policies\Microsoft\Windows
Right-click the Windows key in the left panel and choose New. In the menu that opens, choose Key
Name the new key Personalization
Right-click the new Personalization key and in the menu that opens choose New
Choose DWORD (32-bit) Value and click OK
Name the new value NoLockScreen
Right-click on the new NoLockScreen name you created and choose Modify
Change the value to 1 (one) and click the OK button
If you have successfully accomplished the above steps, you should be seeing a window that looks like this: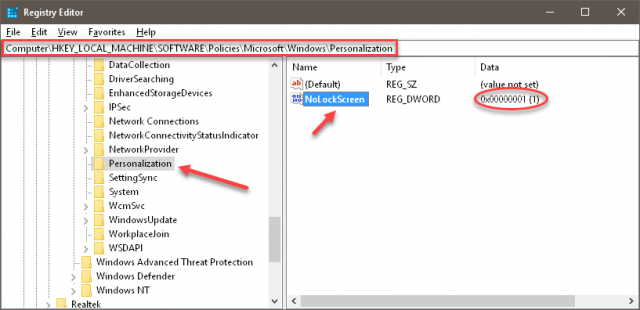 At this point you can close the Registry editor, and if you're brave, and if you've made a proper backup, and if you'd like to see the results of your handiwork, then by all means, reboot your computer.
Final Thoughts
In my own defense I will point out that there are not only 10 steps involved in the above example to achieve what may be considered a meager result, but more importantly, there are far more than 10 ways to screw this up. That is why I didn't include it in the previous Quick Tips Article. It wasn't because I look down on Windows Home users, that's for sure. Heck, I thought I was doing you all a favor! Live and learn…
Editing the Registry can be a complicated affair, and every single typo can lead you a step closer towards misery, hence it is something I try to avoid. Syntax is critical in these cases and attention to detail is a must– a missing or extra space, or underscore, or whatever, can really muck things up. The Registry is an unforgiving beast.
As always, if you have any helpful suggestions, comments or questions, please share them with us,
Richard
—