There are plenty of bittorrent clients available and uTorrent has arguably been the most popular of them all. I've been using uTorrent for years and have watched as it has gradually yet inexorably deteriorated – certainly not in terms of speed and efficacy but definitely as far as integrated bundling and advertising is concerned.
I'd always thought that I'd manged to avoid all of uTorrent's additional baggage, so imagine my surprise when a recent Malwarebytes scan turned up 5 registry entries associated with PUPs all related to uTorrent. The fact that these types of surreptitious intrusions can be slipped past even the most vigilant user made me finally decide to look elsewhere.
I'd read favorable reviews concerning qBittorrent so already had it in mind as an alternative, and I have not been disappointed.
qBittorrent – Free, Open Source, & Cross Platform
There's not much to tell really, qBittorrent's feature-set and options closely resemble those of uTorrent, in fact the developers make that point quite clear in the intro on the home page:
The qBittorrent project aims to provide a Free Software alternative to µtorrent. Additionally, qBittorrent runs and provides the same features on all major platforms (Linux, Mac OS X, Windows, OS/2, FreeBSD).
Essentially, if you're already familiar with uTorrent, you'll have no trouble assimilating to qBittorrent. That's not to say first time users will find it in any way complicated, qBittorrent is ready to go right out of the box and there is no real need to fiddle with settings except perhaps to meet personal preferences. I made the following couple of simple adjustments:
1) Changed the default save location (Documents) to a folder I'd previously set up on an external hard drive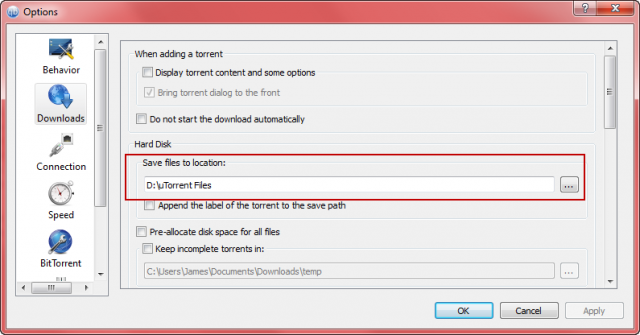 2) Changed the default queuing behavior from multiple downloads to one at a time – a strictly personal preference.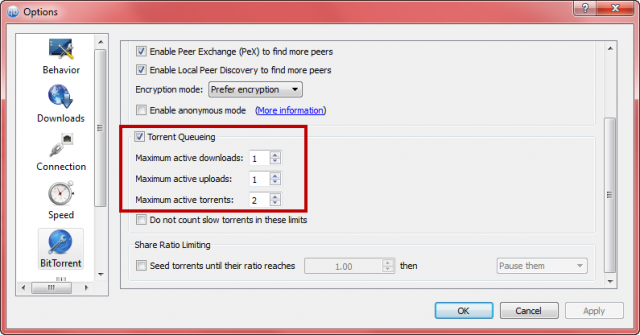 That's all I did to get started, nothing that would actually affect speed or efficacy, although I may come across further adjustments as time goes by.
qBittorrent – Bottom Line
I've read several user comments suggesting that uTorrent has the edge in speed, I'm hear to tell you from the vantage point of first hand experience using both, that is absolute BS. At default settings, qBittorrent matches uTorrrent in every department, including speed – and the most important aspect of course, minus all the additional crap.
I guess I'm the same as many of you, reluctant to change from the devil I know, but I am glad I finally took the plunge and changed over.
Highly recommended!!