Recently I received an e-mail query from one of my readers. Apparently I had referenced the Table Tool tab in an article and he could not find it.
I could see where he might be confused and responded letting him know that it is not always intuitive when looking for the Table Tool tab.
Follow the steps below to learn where and how to access the elusive Table Tool tab:
Click inside any table.
Table Tools will display above your Ribbon.
Once Table Tools is enabled, there are two tabs just for Tables and they are Design and Layout.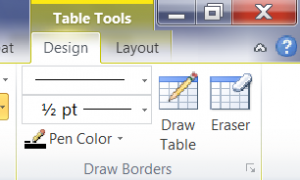 It is the Table Tools Layout tab that houses many of the command buttons that allow you to manipulate and adjust your table, such as deleting or inserting cells, columns or rows. You can also adjust your row and column size here as well as Reorienting or aligning your text. These are but a few of the attributes found on the Layout tab to enhance your table.
The Design tab is where you can quickly format your table using Quick Styles.
Or, you can use the commands on the Design tab to set your table's line styles, remove lines, merge cells, etc. You can also use the Borders and Shading attributes here.
Go ahead and create a table just so you can use these features and become familiar with them and hone your table creating skills!