You are never too old to learn a new skill or hobby.
This winter, I had one of my computer students attempt to teach me to knit. Needless to say, I was dropping stitches, pulling the yarn too tight… it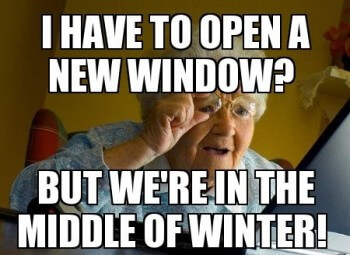 was an absolute nightmare. I was frustrated that I could not master the simple skill of a basic knitting stitch. It definitely humbled me and made me think of how many of my students get frustrated in class with computers. Do I left click or right click? How many times do I click? It enlightened me to be more patient when the same student asks the same question over and over and over. The statement "I'm too old to learn" is hogwash!! Help is out there! I can attest, I love working with my senior citizen students more than any other demographic.
Many people, and not just Senior citizens, are commonly depicted as technophobic. The Merriam-Webster dictionary  defines a technophobe as "a person who fears, dislikes or avoids new technology". Senior citizens are often left out of the loop when it comes to technology. All it takes is a little practice, persistence and patience to learn any new skill.  Just for the record I never did knit a sweater or become proficient with knitting needles. Maybe, I will try again next winter.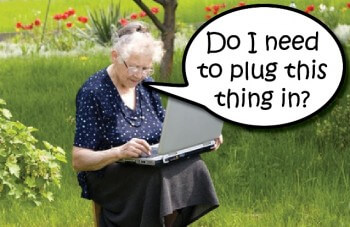 Negative computer myths addressed
When you really don't know much about something it is normal to be scared or apprehensive. When it comes to Technology there is so much out there it can be overwhelming to anyone regardless of their proficiency or their age. There are a lot of negative myths out there that I hope to clear up for you.
Here are a few myth busting facts…
MYTH #1 – "I can't even touch a computer because I just know that somehow I'll end up breaking it"
FACT:  Well, guess what,  maybe if you threw it from the top of a 10 story building, yes that would definitely break it. However, it's really difficult to break a computer… 9 times out of 10, shutting down you computer correctly and re-starting it cures most minor problems. Computers are pretty resilient, once you've learned the basics, they really are user friendly.
MYTH #2 – "I'm too old to learn all this stuff now, all this technology mumbo jumbo is just for young people"
FACT:  The fastest growing group of learners embracing technology are people over the age of 50. There's so much to do and it's a great way to keep in contact with all your friends and family, sharing photos, videos and finding friends you thought you'd lost touch with.
MYTH #3- "Computers and gadgets are just so expensive and I am on a fixed income"
FACT:  The price of computers has dramatically decreased. I recall the first computer I acquired was almost $2,000.00 back in 1990, and my first black and white laser printer was over $600.00! If you cannot afford a new computer system there are many quality used or refurbished systems out there as well. The price of technology is nowhere near what it used to be. You can get a brand new entry level system with everything you need for very little outlay.
MYTH #4 – "I have heard though that it isn't safe online and you can get viruses and people can steal your personal information"
FACT:  Unfortunately, we live in a world where theft, deception and fraud sadly does occur, however, it is very much in the minority, and people usually go through life not being directly affected by any of it, the same is true for the Internet.
Despite the low risk of being a victim of Cyber Theft it is of course important to take measures to minimize security problems.
There are many safeguards computer users can employ to help eliminate online security risks, many of which are FREE. Plus, learning and practicing a few basic security protocols can limit the risk of exposure even further.
There are so many advantages to learning how to use technology for seniors.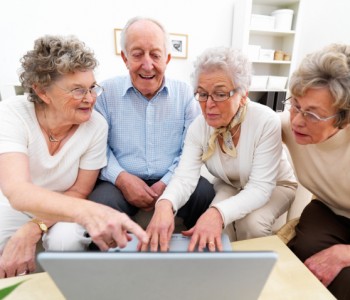 Computers, the Internet and technology enable you to…
Save Time & Money.  You can print out coupons, save wear & tear on your vehicle and have products shipped right to your door.
Stay informed
Be creative
Find work
Keep in touch with family/friends
Stay mentally active
Have fun
More and more people over the age of 50 are overcoming their technophobia and taking advantage of what today's technology has to offer. What with computers becoming more affordable, and all of our libraries and many community centers offering FREE computer and internet access, there's never been a better time to get online and connected.
Being computer literate is being able to sit down at a computer to complete tasks – and being able to work out problems yourself (even if you have to ask Google for help), as well as the ability to learn new computing skills. It doesn't mean you have to be able to build a computer from scratch, code your own computer game or website, or set up a complex network – it means being more or less self-sufficient at the computer. Repeat after me…"GOOGLE IS YOUR FRIEND!" I cannot tell you how many times Google has saved me when I was not sure how to do something.
There's a lot of self-help websites out there, and libraries full of books on the subject, so there's no excuse for not knowing where to get help. I highly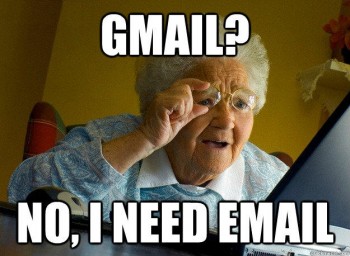 recommend the books called "Teach yourself visually."  They have a series for Windows 7, 8, and specific things you want to learn with colored photos and easy to understand language. Plus, of course, the DCT forum is always open whenever you need advice or assistance.
So, instead of ringing up your grandkids or your children every week asking the same questions, or putting your head in the sand when it comes to something new, why not help yourself?
Remember, age is just a number, unless of course you are a good bottle of wine or a block of cheese!  On that note… grabbing my crackers and glass of wine & making a toast to your success with Technology.