Not all technology resides in a laptop bag or a computer desk.  Auto manufacturers are loading new vehicles with an array of wireless communications and technologies.
My first car came with an 8 track tape player and I thought I was all that.  My next 2 vehicles were a Ford Thunderbird Turbo Coupe and a Mercury Cougar XR7 sporting cassette tape decks.  I now have a  Ford F150 truck with an AM/FM radio, cassette deck and a CD Player,
Upon talking to some of my pals here at DCT, I was advised some vehicles from yesteryear did not even come with a radio.  My earliest memory as a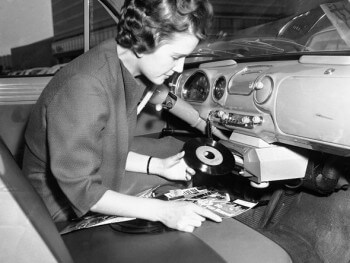 child was riding in my parents Ford Country Squire station wagon with an AM radio playing.  It was also brought to my attention that some auto manufacturers actually put record players in cars. My thoughts when I heard that were "what do they do when they go over a rough railroad track or bumpy road?" Talk about being distracted –  changing records would have to be worse than texting while driving, or at least as bad.
When it comes to Technology, it is always evolving.  One of my latest vehicles is a Ford Escape.  It has the most recent technology to be found in a vehicle. My Ford Touch with Microsoft Synch including USB Ports to add mp3 players or USB sticks.  Bluetooth hands free technology allows me to talk on my phone with both hands on the wheel.  I can press a button on the steering wheel and say call Dave Hartsock and if his number is in my address book on my phone it will call him.  If he answers I will hear him thru my car stereo system.  One of the problems I come across is name pronunciations.  I will say 'call Al Meinke at home'.  The computer will respond 'do you mean Al Minnick?'  Our name is pronounced Mine-key not Min-nick.  I have to agree or it will not dial for me unless I use the keypad.
I know some people who trade in their vehicles every time manufacturers upgrade the technology within a certain make/model.  I am proud to say I owned my last vehicle, a 1995 Ford Explorer, for 18 years before turning it in.  it had an AM/FM cassette deck and no CD Player.  Loved that vehicle!
How important to you is technology in your ride?