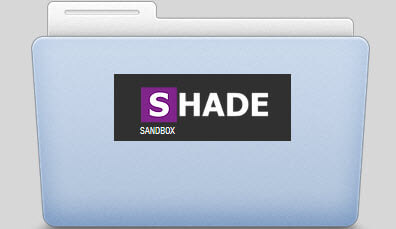 I'm always interested in new programs that help users stay safe online. I've been a great advocate for Sandboxie over the years and still firmly believe that it, or something very similar, should be mandatory on all systems. These types of security programs work by isolating data/files in a virtual environment, or sandbox, completely separate from the system. The end result is that nothing; no malware infections, PUPs, inadvertent installs, nor anything else, gets anywhere near the system and so can't cause any harm.
So, I was pretty excited when I recently came across a new sandboxing software called "Shade Sandbox", and decided to take it for a test drive. Shade Sandbox comes to us from Cybergenic Corporation, a US based company, and, at the time of writing this article, the software is free – although, a license key is required to activate the software (more on that later).
Shade Sandbox Download & Usage
Download is a 14.3MB executable which scans 100% clean through Virus Total. The installation process is also clean, with no bundled extras or nasty surprises to worry about. Something which did come as a bit of a surprise occurred early on in the installation process, when I was asked to input my full name and email address so they could send me an activation code: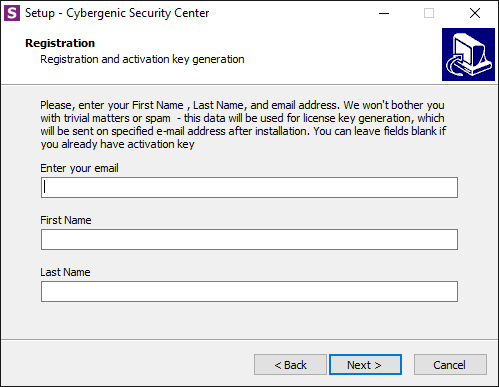 The Cybergenic Corporation also provides an "Enterprise" edition for companies at a cost, so I'm guessing the exact same software is distributed to all users with the only distinction being between personal and business use. Under those circumstances, the simplest system is probably for everyone to require a license key to activate – personal users get their key for free, business users have to pay.
In my case, an email from Cybergenic arrived within seconds informing me of my license key, and also including the following instructions for activation:
1) open Shade user interface by clicking Shade icon in your system tray;
2) click Cybergenic Shade button in the upper left corner of the window;
3) click Activate button and enter your license key into corresponding field.
Once installed you'll see a new icon in the system tray which you'll need to right click in order to access the program's interface. The first thing you'll need to do is activate the software as per the instructions above. Shortly after activation you should receive a popup message which you can click to automatically add your browser(s) into Shade's protection – in my Windows 10 system, Shade automatically added Firefox, Chrome, and Internet Explorer but not Edge. You can also add any browser or application manually by simply dragging and dropping the shortcut or executable into Shade's interface. From there on, it's just a simple matter of starting the application as per normal and it will automatically run under Shade's protection: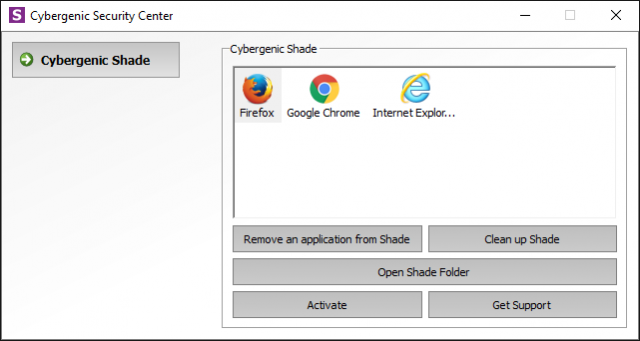 As you can see from the above screenshot, the interface is very minimal. There are no settings/preferences as such, just a list of programs under Shade's protection and a number of function buttons at the bottom where you can remove an application or clean out Shade's virtual folder (aka the sandbox) which is contained in the root of the system drive, usually "C" drive. And for any files you've downloaded and may want to keep, Shade automatically offers an option to move the files into the "real" file system for you.
Whenever a browser or application is running under Shade's protection, you'll see Shade's icon displayed at the left of the associated Taskbar button:

Once browsers/applications have been added into Shade they will then automatically run in the sandbox and there is no simple option to switch the protection on and off per application. To disable Shade's protection and run a browser/program normally, you'll need to highlight the item in Shade's list of protected applications and then click the "Remove an application from Shade" button. Then, when you want to run the browser/program again under Shade's protection, you'll need to drag and drop the shortcut back into the interface. A tad clumsy but it works just fine, and I can appreciate the logic that this type of automatic protection is definitely preferable from a security point of view.
When you've finished whatever you were doing under Shade's protection and closed the application, simply click the "Clean up Shade" button to delete all data. There is one aspect to this which I don't quite understand – when the "Clean up Shade" button is clicked, a popup appears notifying the user that a reboot may be required:

To be honest, I'm not sure what the "Files currently in use" might be. Surely once the sandboxed application is closed, there are no files in use. That said, after running several browser sessions in Shade and then then clicking the "Clean up Shade" button, the virtual folder was empty each time, without requiring a reboot.
Shade Sandbox – Startup
Shade Sandbox is set to automatically start with Windows by default and there is no option to change this behavior. Which, I'm assuming, is a deliberate move by the developers to ensure that protection is always on. Personally, I wouldn't recommend changing the default behavior. However, if they'd prefer, users can easily disable autostart via msconfig > Startup or, in Windows 10, Task Manager  > Startup.
Shade Sandbox – The Good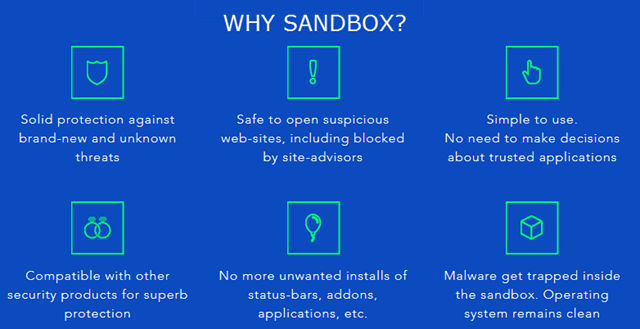 Undoubtedly Shade's major attraction is its sheer ease of use. The drag and drop system for placing applications under Shade's automatic protection could not be simpler.
Most, if not all, users will benefit from Shade's system of "always-on" protection rather than having to rely on remembering to switch it on each time – bear in mind that any needed/wanted files can always easily be transferred over to the "real" system.
Shade Sandbox – The Not So good
Nothing really, not so far anyway.
Internet Explorer problems – I tested Shade in a Win 10 system with all three browsers, Firefox, Internet Explorer, and Chrome, and it worked well with both Firefox and Chrome but NOT with Internet Explorer. When running Internet Explorer in Shade, browsing  slowed to a crawl and the system eventually locked up requiring a forced reboot. Mind you, running Internet Explorer normally in my Win 10 system is problematic anyway, it never seems to work properly.
The Verdict
Any sandboxing type program is, in my opinion, highly desirable. Users can surf around until their heart's content without any fear of malware infecting the system – sandboxing provides the ultimate protection. Shade Sandbox has one huge plus, it is just so simple to use, with no daunting configurations or complexities to worry about. Perfect for novices and those not familiar with the sandboxing system. Recommended? You betchya!