For years, an open source project has been working on porting the Android operating system to the x86 platform… meaning, it can be run on PC hardware with an Intel or AMD processor. The project is called, not surprisingly, the Android x86 project.
Jide, a company started by some ex-Google engineers, has partnered with the Android x86 project and branded their own version of Android x86. It is a somewhat more polished version called Remix OS for PC with point and click capabilities, making it more like using a PC or a Mac. Jide manufactures a couple of devices that run on Remix OS, but they recently decided to make Remix OS available free to anyone who wants to download and install it.
The stable version of Android x86 from the project Website is based on the Lollipop (5.1). It's not entirely clear whether the Alpha version of Remix OS currently available from the Jide Website is based on Lollipop or Marshmallow. I believe it is Lollipop, and a Marshmallow version is likely to be available soon, as an install or an update.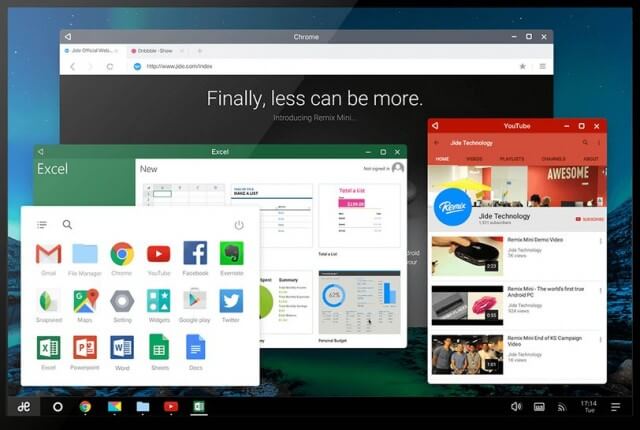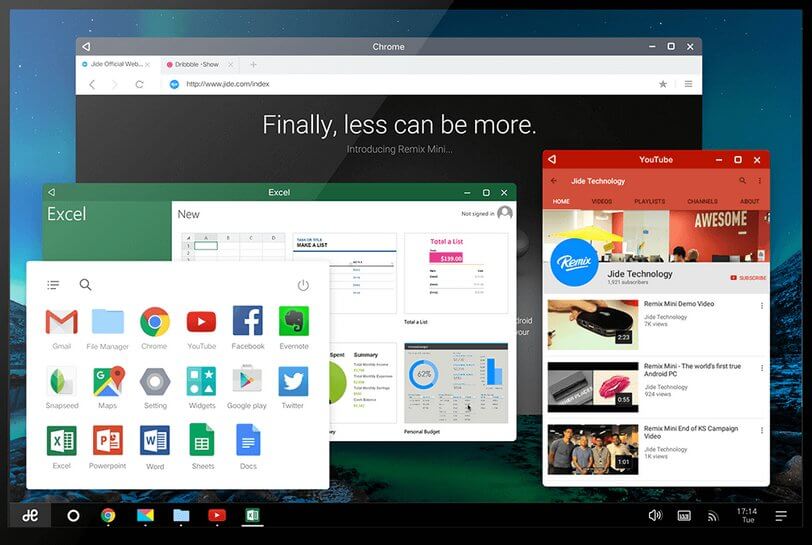 Instructions for installation recommend installing Remix OS to a FAT32 formatted USB drive that supports the USB 3.0 standard and has at least 8GB of storage available. It can be installed on internal memory, but that may pose some unnecessary risk. Supported file systems include NTFS, FAT32, EXT2 and EXT3. Though it may not be quite as easy, Remix OS can also be run on a Mac PC.
In reading some of the comments in the discussion groups, it seems not everyone is successful at installing the OS. Since Android was never meant to be run on a PC, it may take some time before Remix OS is compatible with the majority of PC hardware. If you find the idea of running the Android OS from your computer appealing, it may be worth the effort to try. In general, setup is simple on compatible PCs. Once you've completed the installation, you can boot up your PC using either Remix OS or your regular OS.

With cell phones now ubiquitous around the globe, Android is already the most popular operating system in the world, by far. Until now, it was confined to cell phones, tablets and Chromebooks, all of which had hardware designed specifically to run the Android OS. Remix OS changes all that.
If you have an Android phone, you already know your way around the operating system. The difference between using Android on your phone or tablet and using Remix OS on a PC will be point and click + drag and drop, rather than tap, tap, pinch, slide. It is a mouse and keyboard friendly multi-tasking operating system. As they say on their Website, you get "a PC experience unlike anything on Android and an Android experience unlike anything on a PC."
Remix can be installed as a dual boot with Windows, and can also be run in a virtual machine with software such as VirtualBox or VMware. If run in a virtual machine using VMware, make sure to change the IDE/SCSI setting to IDE. I believe the default in VMware is SCSI, and that won't work.
I suspect Jide has released Remix OS to the public for two reasons; to bring more awareness to the public about porting Android to the x86 platform, with Windows-like usability, and to encourage more people to contribute to the development of the open source Android x86 project.
You can learn more about the Android x86 project at android-x86.org. There is a lot of information there to bring you up to date on what's going on. If you want to play with running Remix OS for PC, you will find the download at Jide.com.

NOTE: This is an alpha version intended for developers and early adopters who don't mind a bug or two. Android was designed for touchscreens and as there isn't a touchscreen on most PCs, we want you to be aware that apps may perform differently
You can also find YouTube videos with helpful suggestions about the installation process and some of the ways Remix OS is different from using Windows. The Jide.com site also hosts a user community discussion group and you can find a link to the Google groups support group.
I can't wait to give Remix OS for PC a try. If I am successful, I will write a follow up article on the experience.
How about you? Will you try running Remix OS from your Windows machine? If you do, be sure to come back and leave a comment with your impressions.