In today's world of burgeoning cybercrime, passwords and password security have become critical in the way we protect ourselves online. It's not too difficult to create a different strong password for each account but it is not so easy remembering them all. This is where password managers come into their own and the main reason they have become an integral part of our online security kit.
SpeedyPassword is a relatively new browser-based password manager which first came to my attention via a series of favorable reviews. I followed up by reading through the blurb on SpeedyPassword's official site and was suitably impressed. My interest now piqued, I decided it was time to check out this new password manager more thoroughly.
SpeedyPassword – The Software

SpeedyPassword is available as a free add-on for Internet Explorer (10+), Firefox, and Chrome. I decided to try out the Internet Explorer version. Now, this next part was supposed to be a review, but alas, after installing the add-on, creating a heap of screenshots along the way, in the end it just broke Internet Explorer.
After installing the SpeedyPassword add-on I could no longer connect to my home page, and links to managed pages on Facebook were no longer working (active). In order to establish conclusively that SpeedyPassword was the culprit, I disabled the add-on and sure enough, everything returned to normal. These were just two issues which immediately came to light, I have no idea what else may have been broken by the add-on as I decided to leave it disabled pending further research.
I sent an email off to SpeedyPassword support, including a description of the issues with screenshots. I received a response within 24 hours to the effect that they had managed to replicate the issues and would be releasing an update as soon as possible. They also assured me that I would be informed as soon as the updated version was available.
Our QA team has been able to replicate the issue you discovered and our lead developer will be working on an update to fix this.

We truly appreciate the thorough and complete information you have provided, I'm sure you know this makes it much easier for us to locate the problem.

When we have a fix available, we can contact you to let you know.
That was over 3 weeks ago and, despite sending several follow up emails asking if the new version was available, I've received nothing further from the support team. Seems they have now chosen to ignore my emails.
SpeedyPassword & SpeedyPC Pro
Then, a strange thing happened. SpeedyPassword's installation requires setting up an account which involves submitting a user name and email address.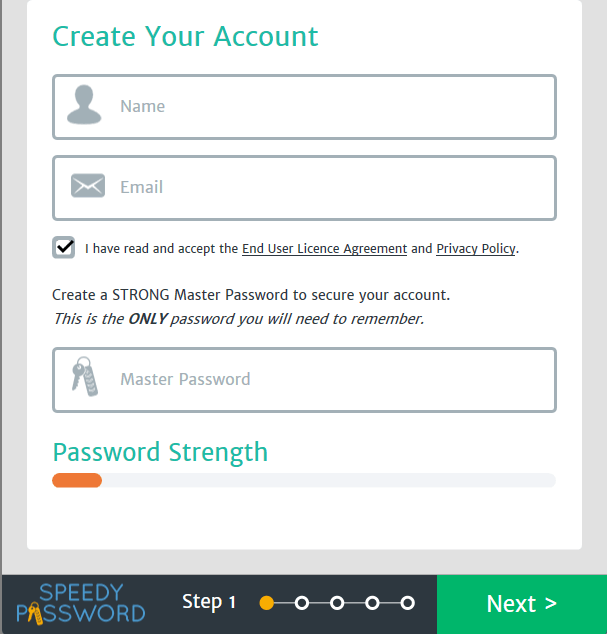 Two weeks later I received an email from SpeedyPassword extolling the virtues of a software called "SpeedyPC Pro".
The name of the software immediately rang a bell, I could recall SpeedyPC Pro being embroiled in some sort of controversy at some time or other. So, off to Google for further investigation.
The first thing I did was visit the SpeedyPC Pro site and check out the WOT rating, it ain't good! WOT's site details page for SpeedyPC Pro is a litany of negative comments: https://www.mywot.com/en/scorecard/speedypc.com
Despite the obvious similarity in names, I also checked to make doubly sure both products originate from the same source. Sure enough, both SpeedyPassword and SpeedyPC Pro are distributed by the same company (ParetoLogic) and share the exact same address in Canada.
My suspicions confirmed, I continued to browse through search results, coming across numerous reports of the unsavory nature of SpeedyPC Pro.
The preponderant consensus is that SpeedyPC Pro is a scam which falsely identities hundreds of issues on a PC and then demands payment to fix them. In fact, a class action law suit was filed against the SpeedyPC Pro company in 2012 claiming, among other things… "Speedy PC Pro Software fraudulently induces people to buy fraudulent software that supposedly speeds up and protects computers." <source>
I could not locate any information regarding the outcome of that law suit.
Finally; in the following screenshot taken from the SpeedyPC Pro site, note the claim of being an approved Microsoft Partner.
According to every report I could locate, this is a false claim and Microsoft is not affiliated with the software in any way.
SpeedyPassword – Bottom Line
Apart from the issues I experienced myself, the SpeedyPassword software appears to be above average, including features which are generally reserved for commercial password managers. The SpeedyPassword site is so new it hasn't yet been rated by any of the leading site advisory services so it's difficult to get a handle on specific security implications. However, considering SpeedyPC Pro's less than stellar reputation, and seeing how it's the same company involved, it certainly raises some serious questions.
So, even working on the premise that SpeedyPassword itself is a safe and useful software, I guess the bottom line is… knowing that it comes from the same company as SpeedyPC Pro, would you be prepared to trust SpeedyPassword with your passwords, email address, and other personal information?