Well known security company Kaspersky has launched a new online service called Kaspersky Application Advisor which provides users with vital information about files and/or programs included in Kaspersky's massive database. We already have several useful services which check for malicious intent by scanning files through multiple anti-virus engines – notably Virus Total and Jotti. – but Kaspersky Application Advisor takes that concept several paces further.
As well as providing an overall security assessment, Kaspersky Application Advisor also presents users with the following information:
User confidence in the product (Trusted, Low or High restrictions, Do not trust)
Certificate information
End user geographic range
Number of users
Detailed file information including size, version, date added, and checksums
Of course, all statistics are restricted to information extracted from the Kaspersky user database.
Check files/programs using Kaspersky Application Advisor
The service allows you to check files by entering a file name or checksum in MD5 or SHA1 format, upload a file (restricted to 5MB maximum), or browse through the top 10, 100, 1000 user requests: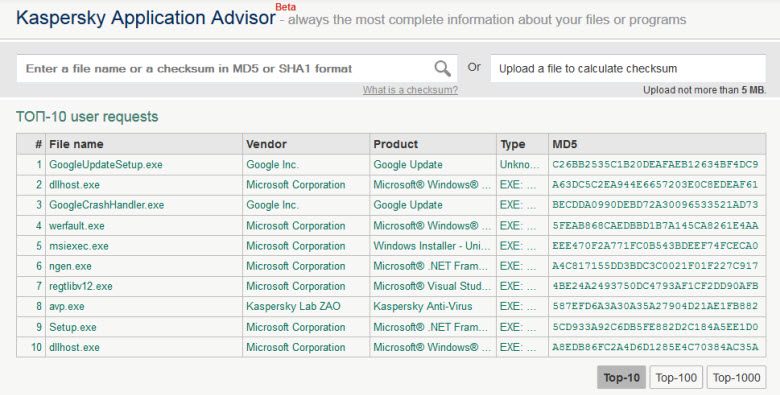 If you have trouble locating a file by name you can always use a program to generate MD5 and SHA-1 checksums that you can then copy and paste into Kaspersky Application Advisor's search request box. One of the best applications for this is MD5 Checksum Tool, available for free here: http://www.novirusthanks.org/product/md5-checksum-tool/ (note the Portable Version);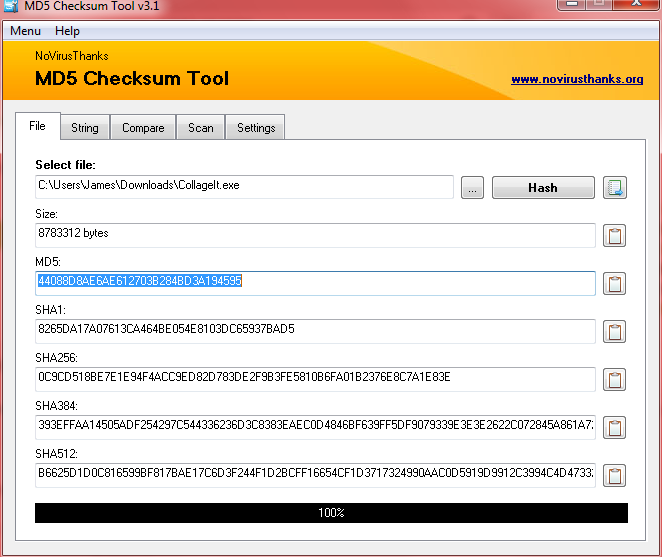 The other alternative is to upload the file to the service – provided it is 5MB or less in size.
Once you have input your file's details, a quick scan will take place and the results then displayed: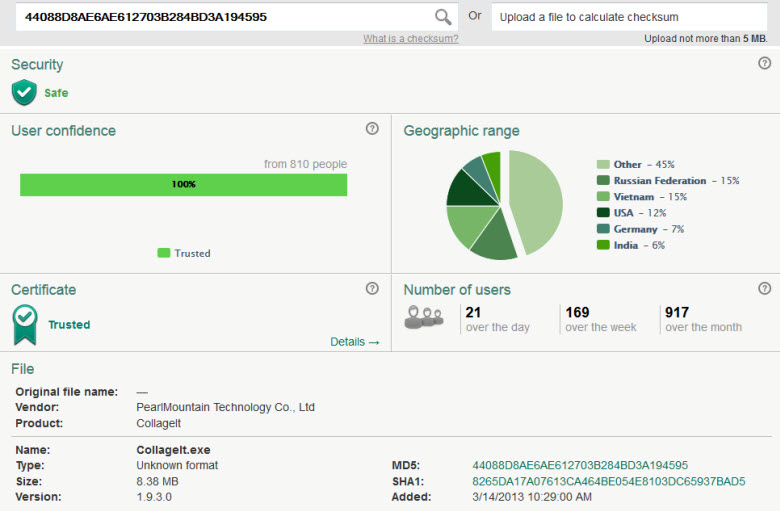 Conclusion
Whether you tend to frequently test software (as I do) or are simply a cautious user, Kaspersky Application Advisor is a really useful service, not to replace the likes of Virus Total but certainly to use in conjunction with. Definitely a site worth bookmarking.
Cheers… Jim