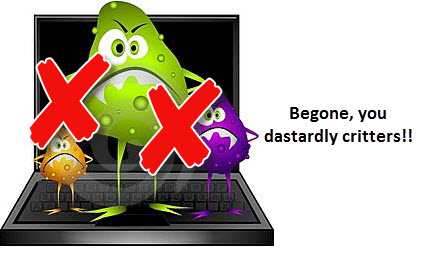 Malware removal tools, or scanner/removers, have become an almost integral part of a home user's security arsenal and we are fortunate that there are several very good freeware offerings to choose from. For some time I, among many others, have been recommending Malwarebytes Anti-Malware as top dog, albeit by a narrow margin. Malwarebytes has always ticked the boxes on three fronts; simplicity, effectiveness and low false positive rates… but now it seems, the times they are a changing. I've been reading reports that Malwarebytes is no longer identifying and removing PUPs (Potentially Unwanted Programs). which includes toolbars – such as Ask, Conduit, Babylon and MyWebSearch – browser hijackers, homepage hijackers and search engine hijackers.
Malwarebytes explanation for dropping these ubiquitous toolbars from the definition database is that they are classified as PUPs (Potentially Unwanted Programs) and are not actually malicious:
While these types of programs and additions are unwanted by many, they're not malicious nor infections. We detect some as 'PUP' (Potentially Unwanted Programs) but cannot classify all due their actual install practices, which when inclusive of an EULA or options to not install prevents additions to the database in any way. Users are advised to always check for 'custom' installation options whenever adding any program to your computer as this is the best way to avoid unwanted 'extras'.
Even though I still hold Malwarebytes Anti-malware in high regard, as a result of this rather bizarre assessment and decision I'll no longer be recommending it as number one free scanner/remover. So, here are two free programs I suggest should be high on the list of alternatives:
Two Alternatives to Malwarebytes Anti-Malware Free
SUPERAntiSpyware Free
My top recommendation for average home users is now SUPERAntiSpyware, which has always been right up there anyway. SUPERAntiSpyware also ticks all the right boxes; it's unobtrusive, simple to operate, highly effective and relatively safe (with a low rate of false positives):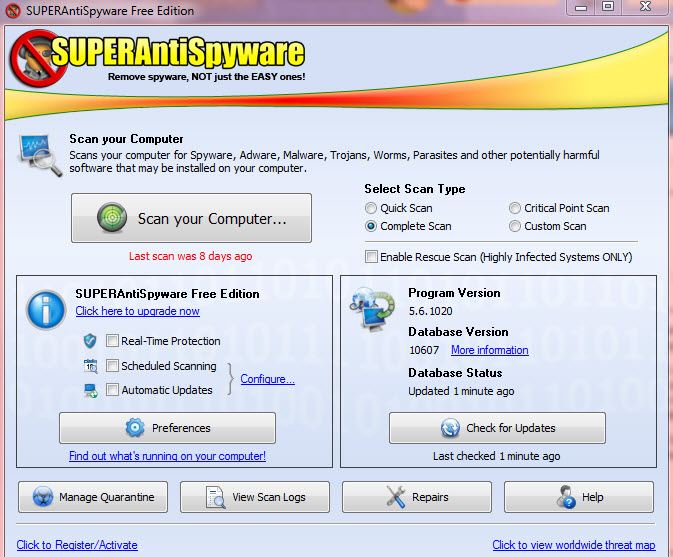 SUPERAntiSpyware is also available in a free portable edition. The portable edition is specifically designed for use on infected machines where malware is blocking internet connection and/or installation.
The SUPERAntiSpyware Portable Scanner Personal Edition features our complete scanning and removal engine and will detect AND remove over 1,000,000 spyware/malware infections. The scanner is the same as our SUPERAntiSpyware Free Edition with pre-bundled definitions and a random named installer to prevent malware from blocking the installation. The scanner contains the latest definitions so you DO NOT need Internet Access on the infected system to scan.
Emsisoft Free Emergency Kit 4.0 – Now with enhanced features
My top recommendation for more experienced to advanced users is Emsisoft Free Emergency Kit. Emsisoft has recently released an updated version of this excellent portable security package with enhanced features. It's always been a very useful scanner/remover but now, with an improved cleaning engine which reduces the risks involved with malware removal while using far less system resources than previously, it is really coming into its own.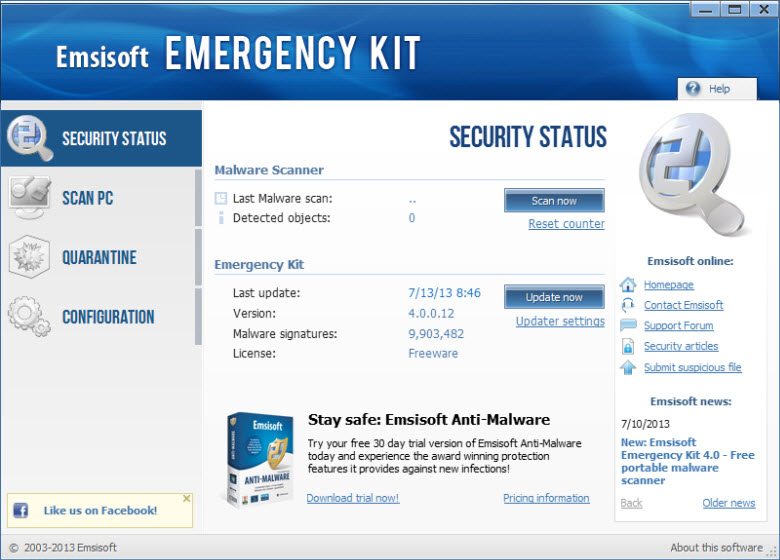 Weighing in at a tick under 178MB, Emsisoft Emergency Kit is certainly not a small download but the end package is well worth the bandwidth, especially for anyone habitually dealing with infected machines. The primary component is, of course, the scanner/remover itself with GUI:
Other tools included in the package are:
Emsisoft Command Line Scanner – provides experienced users with an extensive set of parameters to check for malware infections via the command line.
Emsisoft Hijackfree – allows advanced users to manage all active processes, services, drivers, autoruns, open ports etc. for full control across the system.
Emsisoft Blitzblank – assists with stubborn infections by allowing for removal of infected files, registry entries and drivers at boot time before Windows loads and existing malware has a chance to activate its self-protection mechanisms.
One can but speculate on the motivation behind Malwarebytes puzzling decision. Regardless, I can only perceive this new philosophy as a rather large step in the wrong direction. Users need as much help as they can get in the incessant fight against malware, adware, and insidious software off all types. Let's hope that sanity prevails and Malwarebytes rethinks its stance. In the meantime, I trust you find the aforementioned freeware more than adequate alternatives.
Cheers… Jim