Malwarebytes Anti-Malware 2.0 Free Edition
Sporting a brand new interface plus improved anti-rootkit detection and Chameleon self-protection now built-in, Malwarebytes Anti-malware (MBAM) version 2.0 is a major update. Here's what developer Marcin Kleczynski had to say about it in a recent blog post:
Malwarebytes Anti-Malware 2.0 ships with a completely redesigned user interface to make the product easier to use, more informative, and to provide quicker access to key functionality.

We have also built in and improved our Anti-Rootkit and Chameleon self-protection technologies, which have been in beta for the past year. Additionally, we've rewritten Malicious Website Blocking and improved native x64 support.

Most importantly, our detection and removal engine was significantly improved under the hood and kicks even more malware butt!
If you are an existing MBAM user, you should see a message and link relating to the update next time you run the software: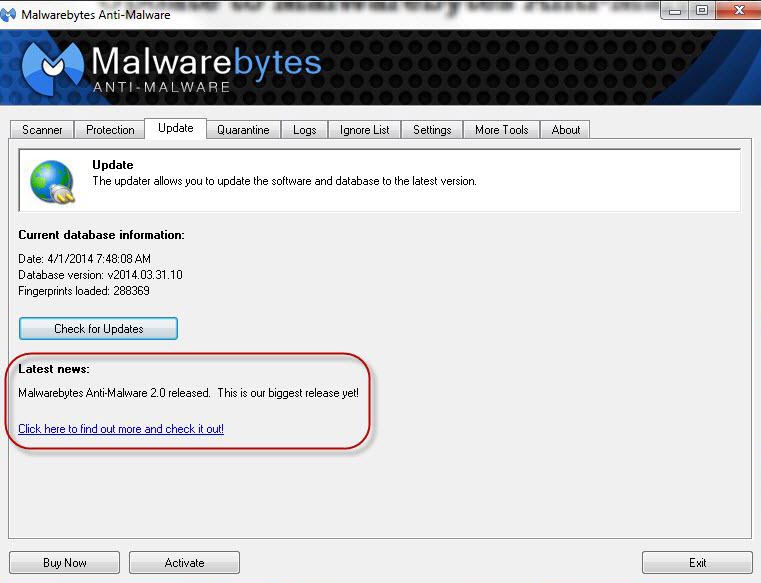 Download consists of a 16.7 MB executable, and although there is zero information on the site as to whether the older version needs to be uninstalled first or not, I can tell you from experience that uninstalling is not necessary, the new version installs over the old version just fine.
Like it or hate it, MBAM's new interface is certainly different to the old.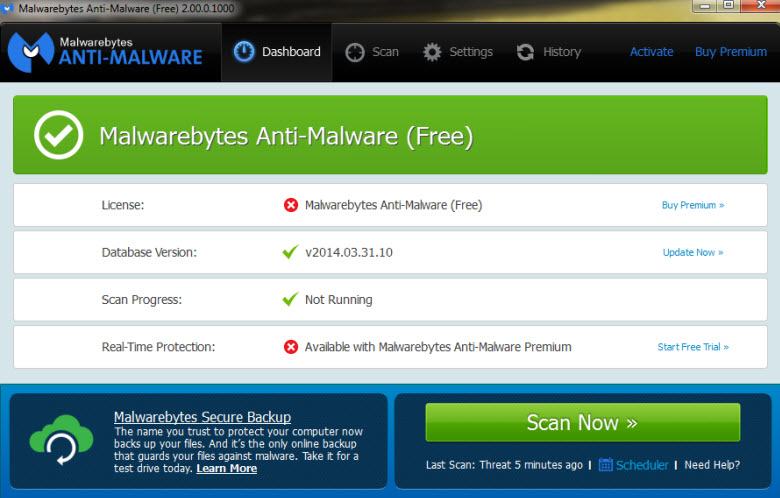 The "Scan" section also includes different terminology, although, in the end, it presents more or less the same scanning options as previous versions: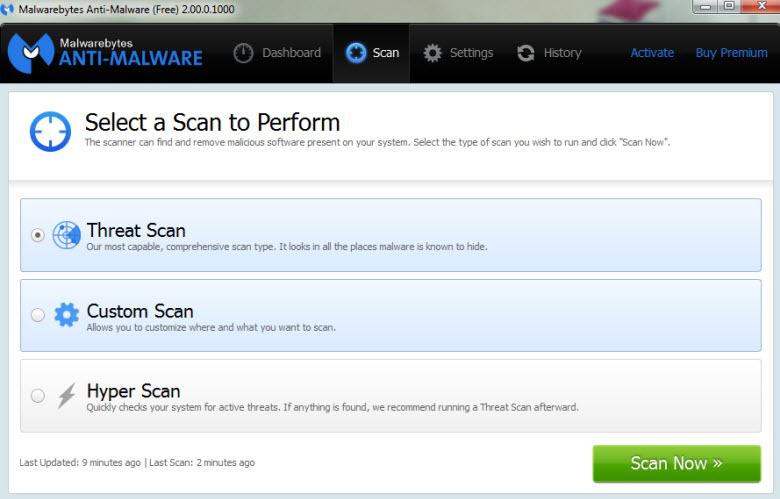 I experienced a couple of minor quirks with version 2.0:
Once a scan has been started it's very reluctant to stop, clicking the Cancel Scan button appears to have little effect.
The program is also occasionally reluctant to close down completely, requiring the user to end the MBAM process via Task Manager. I'm sure these minor wrinkles will soon get ironed out though.
Malwarebytes Anti-Malware 2.0 Premium Edition
While the free version of MBAM has proven to be a highly effective malware scanner/remover, it's important to note that it does not include any real time protection. Users will need to purchase the Pro version (or 'Premium' as it is now being called) in order to activate the protection module.
And therein lies my one complaint – support for 'lifetime' licenses has been dropped in version 2.0 and all licenses now require annual renewal. However, existing lifetime licenses relating to older versions will continue on:
With the launch of 2.0, we'll also be moving to a subscription licensing model, $24.95 per year. As more and more people have come to rely on us for malware protection and cleanup, our costs in bandwidth, hosting fees, infrastructure, salaries of our researchers, QA department and more have grown immensely.

We will continue to honor existing lifetime licenses, meaning any users that already have a lifetime license for 1.x will continue to have a lifetime license for 2.0.
I guess this was bound to happen sooner or later. As far as I am aware, MBAM was the only software of its type still offering lifetime licenses. I am just not a fan of ongoing subscriptions.