Leawo is currently running a Spring promotion which includes a giveaway of its well regarded iTransfer software. iTransfer would normally sell for $29.95us but is available free for everyone right now… offer expires 12th February.
Leawo iTransfer – The software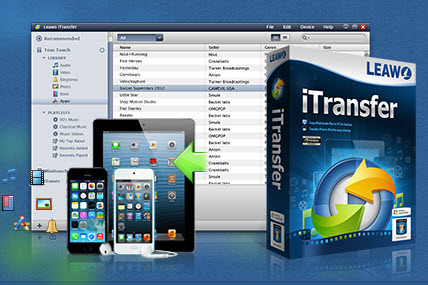 Transfer Files among iOS Devices, iTunes and PCs with Ease

Leawo iTransfer is a powerful iPad/iPod/iPhone transfer tool which will make data transfers among iOS devices, iTunes and PCs incredibly easy. It is user-friendly, and users will be able to handle it with no effort. This easy-to-use iPod/iPad/iPhone transfer software is regarded as the best iTunes alternative, but it does more than iTunes does. No matter where you get the files, the data transfers of the iOS devices can be easily done without the synchronization of iTunes.

Easy-to-use iPad/iPod/iPhone transfer software
Transfer files among iPhone, iPad, iPod, iTunes and PCs
Backup iPhone, iPad and iPod files with ease
Make iPhone, iPad and iPod as flash drives
Support latest versions of iTunes and Windows OS
Leawo iTransfer Giveaway – How to get it
Visit Leawo's Spring promotion page here: http://www.leawo.org/promotion/special-offer/ and click on the Get it Now button. This will expand the window down to reveal a dialogue box where you need to type in your email address and then click on the secondary Get it Now button:
Now you will see the following message:

Soon after, you will receive an email from Leawo containing a download link and your registration code.
*NOTE: The downloaded executable scans 100% clean through Virus Total and the installation process is also perfectly clean and straightforward, with no extras or nasty surprises to worry about.
Enjoy!!