First attempts
Today is Mother's Day (at the time I started writing this), and I decided to create and print up a custom Mother's Day card. Normally, I create cards, whatever the occasion, in a program called Micrografx Windows Draw. I have it installed on a older XP computer, and print my finished documents through my network.
My Acer computer has the direct connection to my Canon iP2700 series printer. My XP computer prints through my network.
Unfortunately, bad things happen. I did up a card and tried to print it only to have the page come out completely blank. So I decided to go into the print preview and sure enough it was also displaying as blank. I started over and did it again only to have the same results. I didn't even bother trying to fix it.
OpenOffice
I've been on-line before trying to find a decent program for doing up greeting cards but haven't yet found one to suit my needs. There are all kinds of on-line services for making greeting cards but these usually come with limited options. On my main computer, the closest thing that I have to a desktop program is OpenOffice Draw. There is the possibility of downloading templates for OpenOffice, but the only ones I've come across were for the small sized cards where you take a page and fold it in half and then fold it in half again.
Apache OpenOffice – https://www.openoffice.org/
I was looking for an 8 x 11 half-fold thing. So this is what I did.
I run OpenOffice Draw. It automatically opens to a blank page in Portrait mode and I want it in Landscape mode. So just right-click anywhere on the blank page, then click on Page and then Page setup…
Change the Orientation option to Landscape and click on Ok. Now the page is in landscape mode.
Beforehand, you should go on-line and search for the pictures you want on the card or use your own personal pictures. Usually, I search for pictures on-line by using Google's image search and save the pictures I like on my hard drive. You can search on-line for verses to put in the card as well.
Photofiltre
I found two pictures and combined them. I found a blue one with the words Big Love and huge Hugs. There were a couple of cartoon people on it which I cropped. I also found the panda bears and had to crop something there, too. OpenOffice has a cropping option by right-clicking on the picture and click on Crop Picture, but I don't like it. I prefer a program like Photofiltre – http://photofiltre.free.fr/download_en.htm where you just drag the cursor around the part you want to crop, then right-click on it and click on Crop. Simple.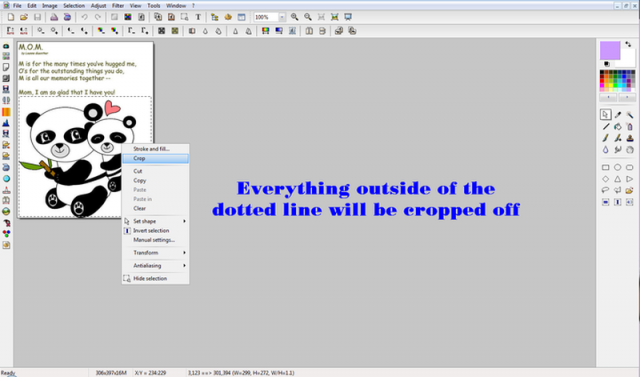 Card Stock
I don't have any official card stock paper so I decided to use an ordinary page of Glossy Photo Paper. One of the problems with using ordinary photo paper is that a lot of it comes with the company's logos watermarked all over the backside. Luckily, I have some where the backs are clear. I buy it for about a dollar a pack at the Dollar Store. I can still remember when around here Photo Paper cost over $20 for only about 5 sheets and sometimes you could buy separate sheets for $1 each.
Formatting
Anyway, the tricky part has always been trying to get everything to line up properly when printing. Usually, I print up a copy on ordinary paper using the draft or quick printing mode on my printer until I'm sure it's going to come out right.
I found a simple way to create a card without templates just using a single page. All I did was to add the pictures, and anything else you want to add, to the right half of the page. A little bit of trial and error and I was able to get it lined up properly to print on a folded 8 x 11 page, glossy side out. With my printer, I just had to flip the page over making sure the page orientation was the same and do the same thing for the inside of the card.
My printer is a Canon model where the paper goes in from the top towards the back. The end result turned out to be a pretty decent card without any special software and/or templates, except for OpenOffice.
—