Ghostery is a popular privacy/anti-tracking add-on supporting major web browsers, including both Firefox and Chrome. However, Ghostery has not been without its critics and has elicited a fair amount of controversy along the way.
A recent update to Ghostery for Chrome, Safari, Opera and Firefox introduces a new option that is almost certain to add to the controversial nature of the extension. The option introduces a messaging tool, Evidon (the makers of Ghostery) call it 'Consumer Messaging Platform', which allows the company to message users directly from within the web browser.
According to Evidon, it will only be used for product announcements and promotions. Regardless, the issue here is that the option is enabled by default, for existing Ghostery users as well as new installs. Whether you update to the new Ghostery version or perform a new install, you are automatically opted-in:

To change this setting and disable the feature:
Go to Ghostery's options – in Firefox click the Ghostery icon, then click the cog icon and then Options: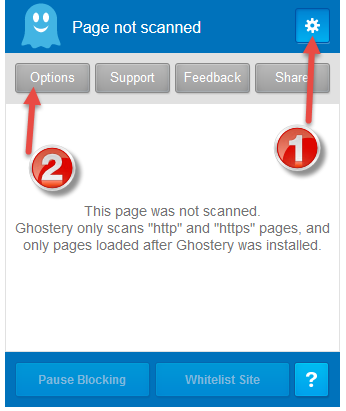 Switch from the "General" tab, which opens by default, to the Advanced tab and uncheck the option "Allow Ghostery to show messages in my browser related to product features, updates, and promotions".
Don't forget to click the Save button at the bottom of the screen.
In this author's humble opinion; given that the only way users would be aware of this new feature in Ghostery would be via a thorough investigation of all options, reading about it on a blog such as this, or happening to trip over the relevant article on the Ghostery site, it clearly should have been OPT-IN!
Recommended Potential Alternatives
Similar add-ons that I would recommend are Privacy Badger from the EFF, and uBlock Origin – for Firefox, for Chrome.