In 1980, Cuban Arnaldo Tamayo-Mendez became the first person of color sent into space.
Tamayo-Mendez, also the first Latin American in space, was an astronaut aboard Soyuz 38, which docked with Salyut-6 for eight days, starting on September 19th and returned to Earth on September 26th.
Learn more at http://space.kursknet.ru/cosmos/english/machines/s38.sht.
In 1990, NeXT released the NeXTstation workstation computer.

Priced at $4,995 with a 17" grayscale monitor, it featured a 25MHz 68050 processor, 8MB RAM (expandable to 32MB) , a 105MB hard drive and the NeXTstep OS version 2.0.
Learn more at http://lowendmac.com/next/nextstation.html.
In 2001, Sony announced the Clie PEG N760C handheld computer.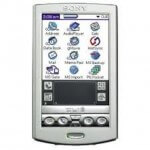 The Clie PEG N760C featured a built-in digital audio player, Palm OS 4.1 and a 65,536-color display and was priced at $500.
Learn more at http://www.palminfocenter.com/news/2376/sony-clie-pegn760-review/.