Unique Browsers Pros and Cons

When a writer creates an article, it should be made clear from the start if the material is an opinion or an unbiased view. Most of my articles are researched for hours before putting it all together and hopefully, the submitted article is one our readers can rely on when making judgments. This is not one of those articles. This is a collection of opinions on several browsers I use and, in some cases, extensions for those browsers. I consider the big four, Chrome, Edge, IE11 and Firefox to be excellent browsers, so any browser listed here would have to have some unique characteristics. This is not a list of the "best" browsers.
There are tons of browsers all fighting for your attention. Many, if not most, are not worth your time. In most cases, they make a few modifications to existing code in open source software like Chromium and declare a new and better version of Chrome or FireFox. Taking an existing browser's open code and adding a new homepage does not, in my opinion, make a browser unique. There are, however, some developers that do the work to create a uniqueness that radically changes the functionality, look or safety of our big four. In some cases, it might be just one unique feature that sets it apart, but more often it is a collection of features that change its look and feel, or enhances its operation.
The following list of browsers is not in any specific order.
Two of the first three listed here are actually variations on Opera. They are all similar in functionality to Chrome, but each one manages to set itself apart. Then, there is Opera itself, which has enough unique features to stand on its own.
Opera
The Opera Browser has long been one of my favorite browsers for many reasons. It has many unique features that make it stand out from other browsers, but none of them beats the ability to detach a video. Opera is one of the oldest browsers and runs on the Chromium system like Chrome, but that all happens in the background. Visually, it is quite different.
What I like About Opera
The Video Detachment feature is certainly a plus for me and in my opinion the best feature of Opera. Having the ability to detach a video from your browser page and place it anywhere you wish can be very helpful. It is great for people that like to multitask. You can watch a video and continue surfing in Opera or use another program for any task
The Opera Sidebar is also useful for pinning features or "favorites" in a similar fashion to traditional browsers
Opera also has a group of built-in features that are not only useful but by being integrated right into the browser means they are always compatible. The built-in Ad blocker, VPN and News services are explained below
VPN
Opera is the first browser to have a VPN built right into the browser. Just having a free unlimited VPN would place Opera in the unique category even if it had no other features. Opera masks your IP address and connects you to websites via a VPN server. Your location should change **(see "what I don't like about Opera below")  to the location of the VPN server, not your actual location. In addition, you have the ability to change your virtual location and pick generalized areas like the "Americas", "Asia", "Europe" or let Opera pick an "Optimal Location". Also, your data is encrypted so that your privacy is enhanced. This makes it easy to hide your browsing activities from other users on your network. But to maximize your privacy from websites, you need to use the VPN in combination with the Private Window feature and use Ad Blocker. These options either delete any set cookies from previous sessions or prevents them from downloading through ads. There are some speed issues when using any VPN because your data is rerouted to an additional server(s). Opera's VPN does a decent job of not slowing down your browsing speed while in VPN mode. The VPN windows accessed by clicking on the blue VPN badges located in the address bar allows you to switch it on or off. It will display the data transferred this month, your virtual location and your current IP address. Note: Another feature of Opera is the Turbo Mode. Activating the Turbo compresses data making browsing faster but Turbo mode will deactivate VPN.
Ad Blocker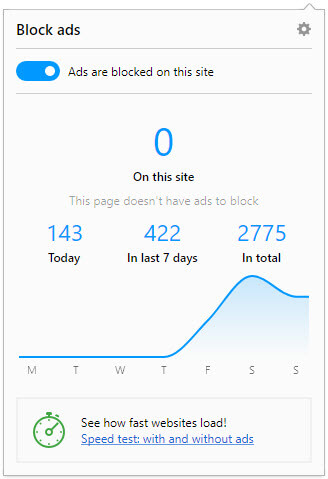 The built-in Ad Blocker does a great job of blocking ads. I have compared it to "ABP" and "Ghosterly" and it outperformed them not only one on one but even when I ran them together. You would think the best thing about using the built-in Ad Blocker is not seeing annoying ads, but an additional benefit is the fact that they are no longer downloading data to your browser. This means your surfing is noticeably faster. Like VPN, you can turn this feature on or off– no additional input required.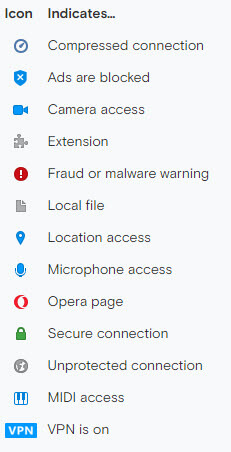 News Feature
I also like the Personal News feature in the Sidebar. You can pre-load your sources and quickly visit top news stories covering any topic you pre-select. Simply choose your source and then select a category like arts, entertainment, food, science, etc. I also like the "Badges" feature. These are small icons that appear in the address bar and clicking on them supplies you with more information including security certificates and a host of other information.
Other Notable Features
The customizable "Speed Dial", while no longer completely unique, was one of the first and still is a nice way to pre-select your favorite websites. Opera has a battery saver feature that works well for laptop users, with Turbo mode, which compresses data. It is faster than Chrome and because it is not a memory hog, it is an excellent choice for Linux machines.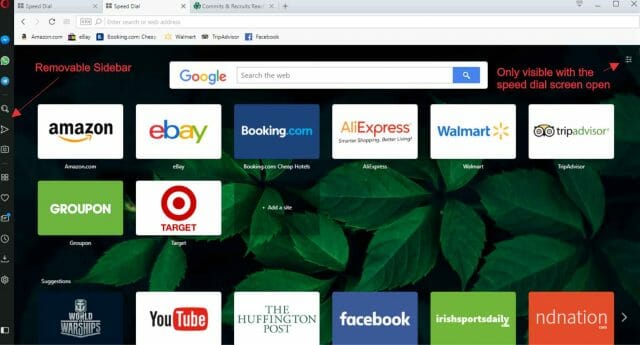 What I Don't Like About Opera
Opera is far from perfect– it has some basic design flaws that could easily be remedied, but for some reason, are not. The "Easy Setup" is only viewable from the Speed Dial window. In the VPN section above, I left the IP address visible to show you that your selection does not always translate to what is stated. Entering the displayed IP address into a browser will show you that this actually originates from Europe, even though I have selected the Americas as my virtual location. The Suggestions in Speed Dial are intrusive because they are automatically added and yes, they can be switched off, but a better system like asking permission would make it a valuable addition to Speed Dial. The Help feature is laid out on a very nice foundation but gives only basic explanations on most of the topics. A more in-depth description of features would go a long way towards making this your go-to browser.
Opera Neon
The uniqueness of Opera Neon is almost purely visual. It offers a Speed Dial page like Opera does, but it does it stylistically. It is just a very cool simplistic approach to a browser GUI. Using Opera Neon does not feel like any other browser. It truly looks more like a desktop than a browser.
It uses circles that sort of float on the screen to post your favorites. Deleting them produces a puff of smoke as it disappears. Open sites also appear as circles in the right-hand display bar.
You can drag-and-drop one to anywhere on the page to create another favorite. The address bar is indistinguishable from the rest of the home page.
What I like About Neon
To be honest, it is just fun to use. If you are looking for a browser that does not look like a browser, this is it. It does have some of the standard tools most modern browsers have.

Displaying two web pages at one time is supported and simple to perform. Just move any open page icon to the top of the screen and it will ask if you wish to place it in the left or right views. The left toolbar supports partial screen captures and the ability to display them. The address bar is the only place to enter searches, but you can switch search engines in the settings.
Neon's Downside
Aside from the cool visual aspects of Neon, there is little else to set it apart from its Opera parent. Ease of use only goes so far. Not being able to move the circles on the home page where you want is a big negative. Dragging a saved web page onto the home screen automatically places a circle in the first position. There is a "Play" button that allows you to play any audio from any web page without changing tabs. I have not found any practical use for this feature. Playing audio in any app would do the same thing.
The version I am using shows a 2018 copyright but the browser does not get a lot of support and it has proved to be a little buggy after installing the latest Windows October 1809 update. I have had to uninstall and reinstall Opera Neon to get it running again. Hopefully, they will work with Windows and get those bugs fixed.
TOC
(Ed note: With the author's permission, this article has been split into two parts)
Part II will be published soon:
Four Unique Browsers – Part I ← You are here
—