Where Are My Passwords
Have you ever forgotten the password to a website? It is easy to do. You might have had one for a long time and decided to update it and then forgot what the new one was or forgot to record it. Well don't worry, Windows keeps a copy of your website passwords or credentials as well as your Windows credentials and the best part is they are very easy to find. 
If you have ever fallen pray to CRAMPS – "can't remember all my passwords" –  you are not alone.
Browser's Saved Passwords
Most of today's browsers can save your passwords to prevent you from having to enter them every time you visit your favorite website. This is handy and can be ideal for home users where there is little chance of anyone else using their browser.
But if you take your laptop out, there is always a chance of losing it and anyone will be able to automatically sign into your accounts. To be secure, you should have the browser require your device password known only to you before any of your passwords can be used. Yes, it is an extra step but can be what protects you in the end.  
As long as we are on the browser subject, check out these articles on Browser passwords by a few of DCT's authors:
Windows Saves Your Passwords
Letting Edge, Chrome, Firefox, etc, automatically fill them out is a choice you make and if used carefully, then can be a real time saver.  What if you are one of those people who prefer to have a list of all your website passwords in your desk drawer? A common but often unwise choice.
As a computer repair person, I am called out all too often because a user forgot their passwords or tried too many times and was locked out. They swear the password was changed and they put it on the list. If you have a list that looks similar to this, you know what I mean.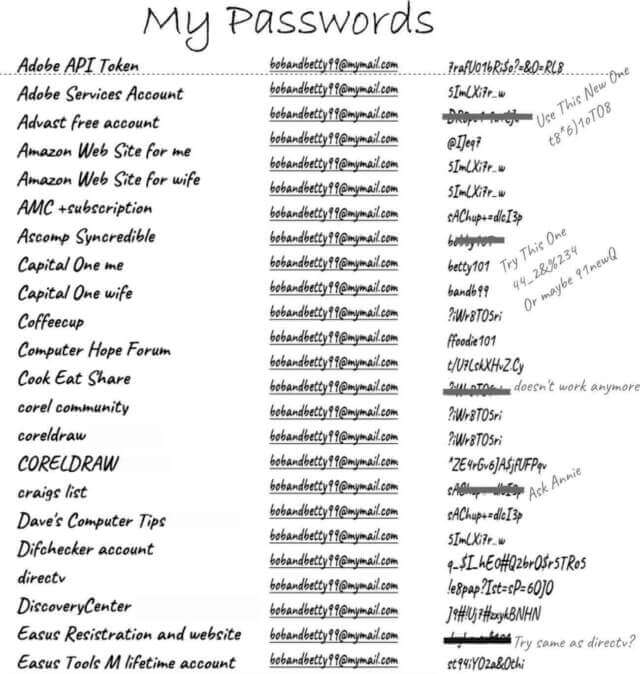 Microsoft To The Rescue
Windows saves your website passwords and retrieving them is easy to do. In the Window's search bar enter "Control Panel" and select it.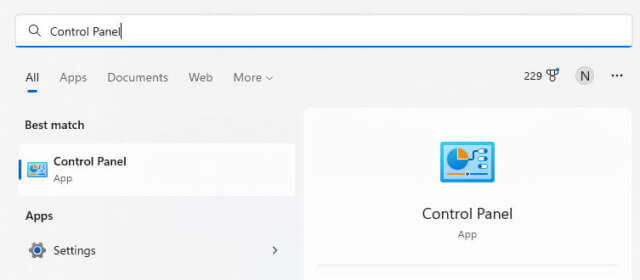 If your view shows only eight items, click on the small arrow after the words Control Panel> and then select All Control Panel Items.
This will open a full screen of all Control Panel items. Click on Credential Manager.
When the new "Manage your credentials" window opens, select "Web Credentials" to open a list of all your Web accounts. A quick shortcut to access this same screen is to type "Manage Windows Credentials" in the search bar in either Windows 10 or 11.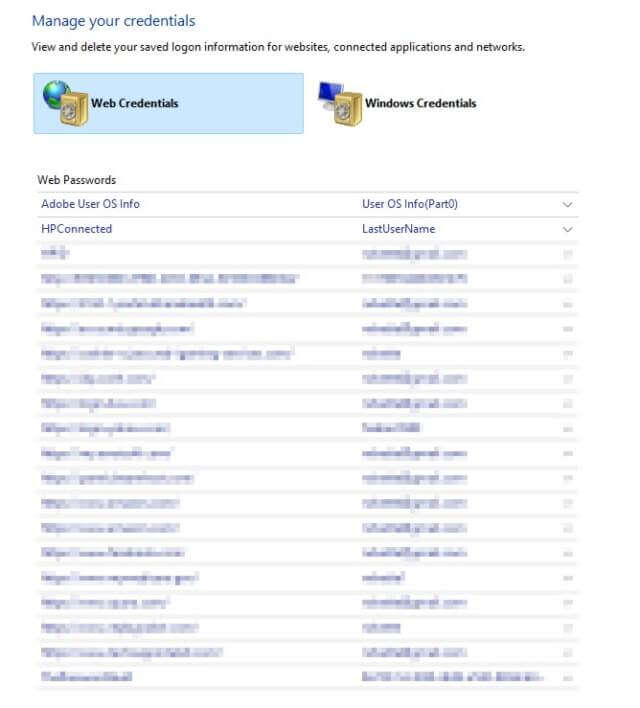 Click on the down arrow at the far right of any account to open a sub-menu. This will display the Web Address, Username, and hidden password. Clicking on "Show" (Step-1) will require the password for your device. (This is why a very strong password for your device sign-in is so important. It allows access to all your passwords.)

Click on "Show" and enter your Username and then the Password for your device (Step 2). Clicking on "More Choices" will allow you to change the account or to enter your pin if you have created one.
Summary
It is handy to have your Web Credentials available as well as your Windows Credentials. Even if someone were to access your computer while it was open in Windows, they would not be able to access your credentials without your device's log-in credentials. In most cases, this is your Microsoft Account Login. Ensuring that it is a difficult password and keeping it private will protect your password information from prying eyes.
—