I came across DVDSmith Movie Backup quite recently and two things immediately caught my eye… 1) it is free… and 2) it removes most common DVD protections. It's not easy to find quality DVD backup freeware which also includes a decryption feature. DVDSmith Movie Backup provides a means for backing up DVDs to a "Video_TS" folder (.vob format) on the hard drive, it does not copy DVD to DVD nor does it include any burning facility.
DVDSmith Movie Backup – The software:
The program itself is pretty basic and extremely easy to use, even for those with little or no experience. Download is a relatively small 3.0MB executable which scans 100% clean through Virus Total. Installation is straightforward with zero bundling or nasty surprises to worry about.
Running the program displays a basic interface which presents options in a clear and intuitive fashion: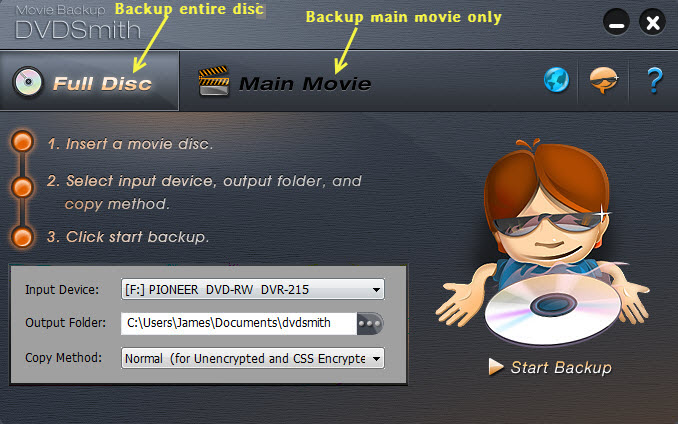 Choose wether to backup the entire disc, including all menus, or the main movie only, then just follow the included 3-step guide.
DVDSmith Movie Backup – In action:
I chose to backup the "Main Movie" only on a purchased DVD with a running time of 113 minutes. There was no indication of the decryption process but the protected movie copied across to the hard drive without issues. The speed at which the operation completed was really impressive – time to completion taking a mere 7 minutes. The Video_TS folder was in the correct (designated) location, weighing in at 5.33GB. Playback was faultless with excellent quality.
DVDSmith Movie Backup – Conclusions
On the plus side, this freeware provides a very easy method to create DVD backups, especially for inexperienced users. It's also impressively fast while maintaining high quality output, and the decryption feature appears to be effective… in short, it does what it says on the box. The big minus is the lack of any compression feature which results in rather large output file sizes. With increased hard drive capacities the norm these days that doesn't necessarily present a huge storage problem but it does mean that, if you wanted to burn a backup disc, in most cases output files would be too big to fit on a standard (single layer) DVD.
Despite this drawback, I still believe DVDSmith Movie Backup could prove to be a pretty useful piece of software for many users, just based on the combination of simplicity, decryption, and speed alone. And, if a user wanted to backup a movie to DVD, they could then utilize the very good DVDShrink freeware… so the steps would be:
Decrypt and rip to hard drive using DVDSmith Movie Backup
Import the Video_TS folder into DVDShrink
Use DVDShrink to compress the movie files
Then burn to DVD
Done, and all for the magic price of… free!
Read more about DVDSmith Movie Backup and its features on the home page here: http://www.dvdsmith.com/dvdsmith-movie-backup.html#Overview