The browser war is over, all hail the King… Google Chrome!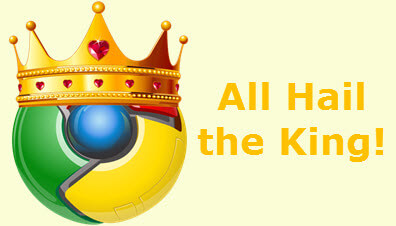 It took a while for Google's Chrome browser to hit number one in desktop market share, but now that it has, it's decimating the opposition. Of course, Microsoft aided and abetted Chrome's cause by changing the default browser in Windows 10 – with Internet Explorer hidden away in Windows 10, and its replacement Edge not finding favor, it appears more and more users are looking to 3rd party alternatives.
The latest statistics from the well respected NetMarketShare show Chrome dominating desktop browser market share with almost 20% more users than Internet Explorer and Firefox combined: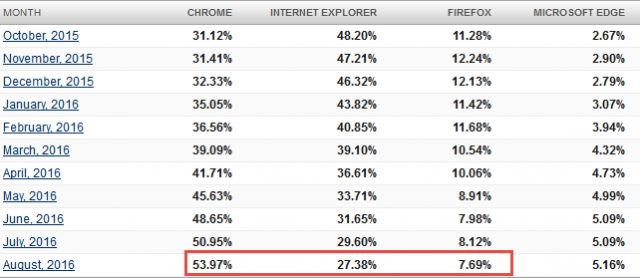 It seems that in trying to take on Google's Chrome by way of emulation, both Microsoft and Mozilla have only succeeded in shooting themselves in the foot. At a mere 7.69% market share, just ahead of Edge, Firefox is now in real danger of becoming a browser non-entity. While there is possibly hope for Edge, which is still young and evolving, it's difficult at this time to imagine Firefox staging any sort of meaningful comeback.
Windows 10 Hits 23% Market Share
Windows 10 has slowly but surely been gaining ground on Windows 7 as the preferred desktop operating system, currently sitting at a tick under 23% total desktop operating system market share.

It remains to be seen how that progresses now that the Windows 10 free upgrade period has expired, not to mention recent issues with the Anniversary Update. However, as Windows 7 grows nearer and nearer to its end of extended support date (January, 2020), one would expect the trend toward Windows 10 to accelerate accordingly. One thing for sure, January 2020 will be crunch time for all those users who have sworn never to install Windows 10 and to migrate over to either Linux or Mac. We'll see. 🙂
—