You've likely been reading recently that "AI" is the up-and-coming technology. I've even read predictions that AI will make Google search obsolete. In fact, Microsoft's Bing search engine is already working on integrating Bing search with the OpenAI program through their own new system called Prometheus. There are concerns with AI that need to be considered. In education, students may use AI to write their papers. Another concern is misinformation and disinformation, either of which can supposedly "fool" AI. After all, AI currently gets its information from the Internet, so mistakes in its output can be expected. Why not give AI a try and decide for yourself?
This article will describe how you can try the free "ChatGPT OpenAI", one of the first AI online programs available to the public. A paid version called "ChatGPT Plus" is also available, but I will be using the free version in this article. From Wikipedia ~ "ChatGPT (Chat Generative Pre-trained Transformer) is a chatbot launched by OpenAI in November 2022." So it is relatively new.
Since Daves Computer Tips is a computer tips-related website, I will demonstrate how OpenAI handles my request to write a small computer program, which it did quite successfully. OpenAI can do a whole lot more than write a program, but my interest is in being able to more easily write software using AI. This first try at having AI write a relatively simple Windows batch file program was successful. From this small experiment in software creation, I would expect it could write more complicated programs in other languages as well. From what I've read, OpenAI can also analyze previously written programs. For example, if you have a program you've written that isn't working correctly, AI can understand the code and possibly find the problem and fix it. So let's get started.
Create An Account At ChatGPT OpenAI
To use ChatGPT OpenAI, you must create an account. In my case, when I tried to create an account, it told me "ChatGPT is at capacity right now" and gave a link that said "Get notified when we're back" which opens another browser tab where you enter your email address. However, after a few hours, I didn't receive the promised notification so I tried again and that time it worked. You might encounter a similar situation, but be patient because they are currently posting a notice that says "We're experiencing exceptionally high demand. Please hang tight as we work on scaling our systems.". After creating your account you should be able to use ChatGPT OpenAI whenever you want.
1. Go to https://chat.openai.com/
2. Create your account (note paragraph above)
3. Sign in to your account
4. Create a link to OpenAI at https://chat.openai.com/chat for your future use.
NOTE: It will create four cookies in your browser. DO NOT DELETE THESE COOKIES or it won't be able to log you in. So if you use a cookie manager, please read CCleaner Privacy And Cookie Management, and make sure it keeps these four cookies.
How To Use ChatGPT OpenAI
Click on the images below to enlarge them for easier reading.
After logging in to ChatGPT OpenAI, you will see this near the bottom of the webpage:



As you can see above, it is a very faint chat box where you enter your commands to this AI. I clicked on "Dark Mode" at the left of the webpage to see it better. In this chat box, I entered the statement below and pressed the Enter key:
Create a Windows batch program to start service TestService then start program Test.exe then wait until the program ends then stop TestService.
This is the program it created:


This is the explanation it gave: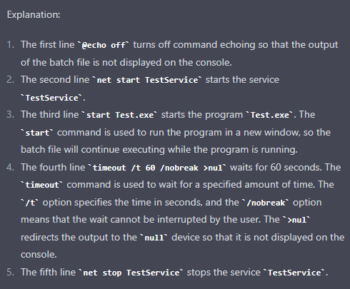 I was impressed that I didn't have to know the commands to create this batch file. I only had to know what to tell it to do. I also liked the Explanation statements that I could use as comment lines within the batch file. The code wasn't exactly the way I would have written it, but it's pretty darn close.
Note: I use this type of batch file to run a program that uses a Service that I don't want running when the program is NOT running.
Please give this AI a try with your commands and let me know what you think. Maybe you might even want to try it for making a PowerShell program or an AutoHotKey program or even a Python program.
Your feedback on this article is welcome. Please use the Comments section below to respond.
—