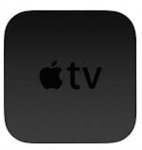 One of the products announced at Apple's Special Event on September 9th was the next generation Apple TV. According to Apple CEO Tim Cook, "the future of television is apps." And, sure enough, the 4th-generation Apple TV will have an App Store.
A redesigned remote includes a glass touchpad on the top portion of the remote. This can be used to control games and to navigate through apps. It's operating system, tvOS, is based on iOS but built for the living room, according to Apple's senior vice president of Internet Software and Services Eddy Cue.
Some of the games that will be coming to Apple TV are Fishlabs' Galaxy on Fire, Ubisoft's Rayman Adventures, Disney Infinity by, well, Disney, Harmonix's Beat Sports and Hipster Whale's Crossy Road. Many games will have a multiple player mode, supporting the use of other iOS devices as remote control devices. Game progress will sync across iOS devices so, not matter where you play a game, you start right where you left off.
No more pointing the remote at the Apple TV unit. The new remote pairs with Apple TV using Bluetooth. I am forever losing my Apple TV remote so I am happy to see that the new remote is a little thicker and bigger.
Siri comes to Apple TV for device operation as well as the ability to search across multiple apps to find what you are looking for. You can use Siri to find movies of a certain genre and/or a specific star or request the episode of a TV show that had a specific guest star. Pretty nice! You activate Siri via the Siri button on the remote.
The new Apple TV will come in two versions — a 32 GB version for $149 and a 64 GB version for $199. It will be available in 80 countries in late October with an additional 20 countries getting it by the end of this year.