Many electronic hardware devices need some form of maintenance, from physical maintenance like cleaning cooling fans to electrical maintenance like rebooting. This article is about electrical maintenance of the electronic devices on your home computer network.
Reboot Your Computer
The way I like to think about electrical devices is that if they have memory, they will all eventually need rebooting. Take, for example, your computer. By continuously using your computer there will eventually be some form of memory corruption that will affect performance. There are programs to "clean" computer memory of such corruption, but you can always depend on a simple reboot to clean it up. After all, what is the first thing any computer support group ever tells you when you start having problems? "Try rebooting your computer."
How often you may need to reboot your computer can vary from once a day to once a month or longer. I happen to reboot mine once a week or whenever unexplainable anomalies happen. Depending on your use you may want to reboot more or less often.
Modem/Router
Your network hardware, like your computer, also needs occasional rebooting to maintain performance. My network consists of a cable modem, a router, and a Voice-Over-IP (VOIP) box. The router and the other network devices need occasional rebooting to maintain performance. Ideally, you are updating your router firmware whenever you can be it manually or automatically, which generally requires a reboot after the update. Running the router without rebooting for months on end can result in a degradation of performance. Similarly, all your other network hardware should be rebooted occasionally.
An easy way to reboot a network is by plugging all the devices into one power strip. Even better would be plugging them all into a surge suppressor power strip to protect your hardware from electrical surges that can happen, for example, when there is an electrical spike. Either way, you will be able to reboot by simply turning off the power strip for about 30 seconds and then turning it back on.
Of course, rebooting the entire network should only be done when no one is using the network. That is why I have my network power strip plugged into a weekly timer set to turn OFF at 3 am every Wednesday and turn ON at 3:02 am every Wednesday. In other words, I automatically reboot my network once a week, very early every Wednesday when no one is using the network.
Weekly timers may be hard to find, but the one I use costs about $10, has an internal battery that maintains the time and settings through power outages and looks like this: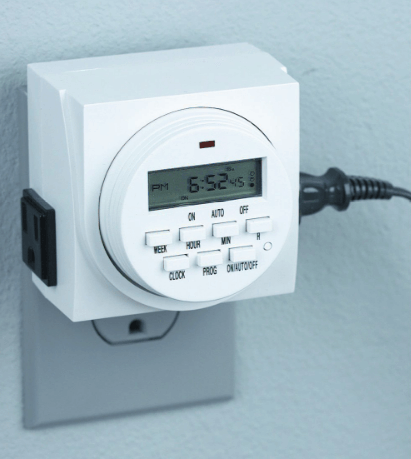 Your feedback on this article is welcome. Please use the Comments section below to respond.
—