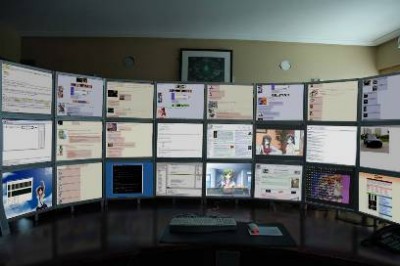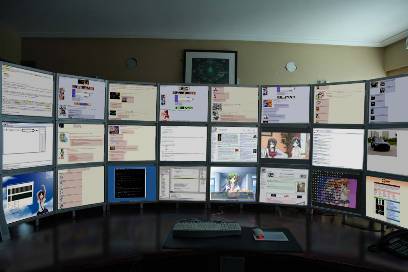 Windows and Multiple Monitors
I'm lucky enough to own three monitors. I wouldn't go back to a single monitor setup again without a lot of kicking and screaming. Once you've had a taste of a multiple monitor set up, it becomes an addiction.
I write on one while keeping a browser open on the second; I use it to double-check that what I'm telling you is accurate. On the third monitor, well, anything goes. I might even have a movie running on that one, or my favorite music player, or a file manager. Sometimes, I'll have the Windows 8.x Start Screen running so I can watch the live tiles I have set up. The point is, I can have a lot of things going on and never have overlapping windows problems. It's a dream come true…
On its own, Windows will manage multiple monitors quite well but it is limited. If you want a lot, and I mean a lot, of control over your fancy system, you'll want a dedicated third-party monitor manager.
DisplayFusion
Here's how my triple-screen desktop looks right now. As you can see I like things simple– a single Task Bar on the left with a minimum number of icons and gadgets.

I don't normally talk about commercial software on DCT. We tend to suggest free, portable applications here, but DisplayFusion has to be an exception. This software by Binary Fortress is the grand-daddy of all that I've tried– and I've tried many.
There is a free version of DisplayFusion but it is severely crippled. Here's a partial version comparison chart to give you an idea of what I'm talking about: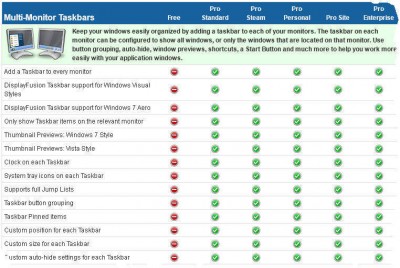 DisplayFusion Features
The feature list is overwhelming and I can't possibly mention everything here. The main settings screen alone has 10 categories with multiple settings available in each.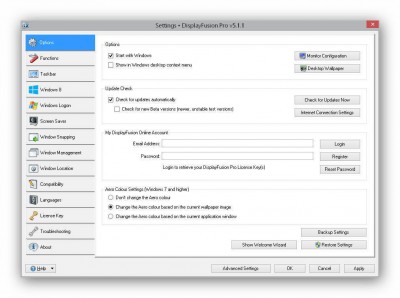 Here's a short list:
Taskbars on one or more monitors
Flexible Wallpaper management – different wallpaper on each if you like
Hotkey support (configurable)
Window locations and Snap
Extra Title Bar buttons (configurable)
Windows 8.x extras
Windows logon background control
Screen-savers on multiple monitors
Icon profiles – Save and restore your favorite icon positions
Wallpaper profiles – easily switch to any number of profiles that you have created
And the list goes on, and on…
Recommendations
If you own a multiple monitor computer system, I can't urge you strongly enough to at least take a look at DisplayFusion.
There are 30-day free trial versions to be had at the DisplayFusion web site.
There are several other quality Monitor Management packages that can be found on the Internet. I invite you to seek them out and give them a critical eye. I did just that several years ago and made my choice.
The program is updated regularly, has no bugs or glitches that I have uncovered, and as of this writing, for a mere $25 (US) a full version can be yours.
Note: I am in no way affiliated with Binary Fortress and will not be remunerated in any way, shape, fashion or form for writing this article. I'm sure they've never heard of me. I simply love the program and am passing along my opinions to you.
What Monitor Management software do you use?
I'd love to hear your thoughts,
Richard
—