On August 15th, Windows 8 was made available to both TechNet and MSDN members and as I said in a previous article, "I, for one, look forward to new Operating Systems like a child looks forward to an amusement park visit, but I approach Windows 8 with a bit of trepidation." Not totally sure, but willing to try, I've migrated my main laptop to Windows 8 and I'd like to share some thoughts about my experience and Windows 8 in general.
Windows 8 Installation
I'm not sure whether I'm a glutton for punishment or just curious, but I installed Win 8 twice to get a better feel of the process, once as an upgrade installation and finally a clean install from scratch. Both completed without a single hitch and were extremely simple – enter your key and make a few easy decisions. No sweat.
The clean install went as fast, if not faster, than a Windows 7 clean install. The upgrade installation though took significantly longer as it checked all installed applications for Win 8 compatibility and actually moved the programs, settings, files, and folders. Nothing shocking to see here.
Windows 8 in use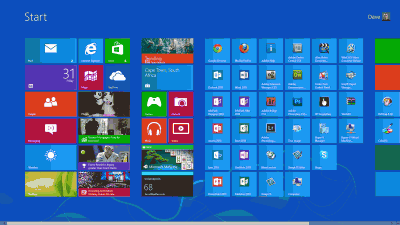 If you've read anything I've written about Win 8 to date you'll know I wasn't a fan of the new Metro Windows 8 Start Screen. Now that I've worked with it exclusively for the past two weeks I may have to backtrack a bit. I've come to think of the Start Screen as an expanded and enhanced version of the Windows 7 Start Menu. Expanded as the tiles present an easier to find entry for programs and features. Enhanced as the addition of live tiles and the ability to easily organize the look and feel make it not only functional, but a place where the user can actually do something. What I mean is there is no need to open the old Start Menu and launch a program to check weather, stock prices, or see if you have new email – it's right there in front of you.
The tiles are all re-sizable and movable so you can customize the Start Screen to your heart's content allowing you to place programs and information where you like. This adds a nice personal touch to the Start Screen as you have the information you deem important where you feel it should be.
What I haven't yet mastered yet is most of the new Metro Windows 8 Apps and why Microsoft chose to include others. Some make complete sense yet the inclusion of others baffle me while still others have me at a complete loss. How may people does Microsoft believe make daily decisions about traveling to far off exotic locations? Don't know, but there is a travel app right on the Start Screen for you to look at each time you visit. The music, video, and photo apps also have me a bit off kilter as I haven't found easy methods to navigate from one file to the next. Hopefully I'll have time to dabble around with these in the near future as it might just be me.
The absolute biggest omission is, in my opinion, the lack of a simple clock! Why, oh why, Microsoft did you not include a clock tile? The login screen is simple and elegant with its' clock and notifications, but once you log in Microsoft must believe time stands still. The elegance of the login screen would have carried over to the Start Screen had Microsoft simply included an elegant clock tile.
 Windows 8 Issues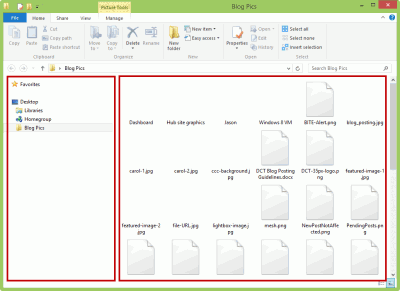 The process has not been completely without trials though. After a period of time Explorer.exe develops a problem when browsing files which prevents the navigation pane from populating – only Favorites, Desktop, Libraries, and Homegroup display – and file/folder previews and icons don't show. After a Restart browsing returns to normal.
Another issue I've encountered is the Connector software for Windows Home Server 2011 installs fine, but upon reboot the Launchpad fails to start properly and results in a "Launchpad has stopped working error". My guess is this is related to the .Net framework installed as part of Win 8, but I truly haven't had time to track either of these issues down completely.
The final issue has been drivers. OEM computer companies are notoriously slow at updating drivers – sometimes never. They often only update drivers to correct a serious issue and rarely update to improve performance or compatibility. In my instance the laptop has a switchable video card function where normal video is handled by the CPU to prolong battery life while tasks such as video games and video transcoding are handled by a dedicated video card. I also have a fingerprint reader. Getting both of these to function properly has been quite the battle of trial and error as the Windows 7 drivers I had did not function correctly. Luckily I have found working drivers for both and the improvement in performance and useability was worth the effort.
Windows 8 – Looking forward
As I stated earlier, I like Windows 8 more each day. I like the concept. I (mostly) like the implementation a lot more than my original expectations. As the computer was booting for the first time I decided to make a conscious effort to approach Windows 8 with an open mind. Once I realized the new Start Screen is an overall improvement of the Start Menu we have all grown to love (and many hate to leave) it has been extremely easy. Are things different? Absolutely! Is the new interface better? In most ways, yes! I think the new App Store model is huge. If we think of the old Vista/Win7 desktop gadget model as a comparison many people didn't know you could add gadgets and those that did would find the available gadgets were sorely lacking in capability. The new Start Screen, and the associated WinRT underpinnings it runs on, allows full fledged cross platform apps (programs) to run from within the Start Screen. Not only will users be able to use the same programs across multiple platforms, but they are easy to find from the Store located on the Start Screen. I think this will lead to exciting advances in the future.
The most important thing to remember is: while Windows 8 has been released to TechNet and MSDN subscribers, both groups are the ultimate testers and their use of the operating system over the next 2 months will result in a better user experience for those who end up with a Windows 8 platform when it is released to the public on October 26th.
Should you upgrade to Windows 8 if you have an older computer? Maybe. It depends on how adventurous you are and how comfortable you are sorting out any issues that may pop up. Should you upgrade to Windows 8 if you've recently bought a new computer, or expect to buy one between now and early November? Sure. This user interface will begin appearing on all manner of devices and the familiarity of operation between devices will be a good thing. Go out on a limb and try something new! If you buy a new computer after October 26th should you choose Windows 8? Absolutely. The devices and computers that are right around the corner will be amazing. I truly believe we're on the cusp of a new era in computer innovation, so you might as well jump on the bandwagon early. No matter what your decision I hope you approach Windows 8 with an open mind, you might even like it – I do!
Over the coming months I'll be sharing lots of Windows 8 tips and how-tos, so stick around and enjoy the fun!