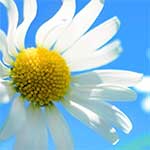 Microsoft put quite a bit of design effort into the new Start Screen. It is simplistic, yet beautiful and functional. I was somewhat dismayed that Microsoft did not continue that design theme, or at least some elements such as the desktop background, in the Windows 8 desktop.
Even worse is that Microsoft only includes 13 default wallpaper images in Windows 8 (6 scenery and 7 flowers). While they are absolutely stunning real life photos they just don't fit into the spirit of Windows 8 or Metro the Modern UI in my humble opinion!
In my Customizing the Windows 8 Desktop article I explained a few different options, but settled on recreating the functionality of the Start Screen on the desktop. My desktop closely resembles the Start Screen, but the wallpaper choices were not inline with my design idea.
Custom Windows 8 Start Screen Wallpaper for your Desktop
What I ended up doing is creating my own! I used the Start Screen, a screen capture and a little Photoshop magic to create a customized wallpaper for the desktop! No tiles, no icons, and Start replaced by Desktop in the upper right corner. I so liked my results that I made several different sizes and I'll share them with you!
Every color combination in the Windows 8 Start Screen is included, so no matter how you personalize your Start Screen you'll be able to match your desktop. Each file contains all 21 possible wallpapers in the sizes indicated. Obviously I can't create sizes for every desktop resolution, but I did include the 4 most popular. Those with desktop resolutions not included in the available downloads should download the size closest to their resolution.
Download – Windows 8 Start Screen Wallpapers 1366×768
Download – Windows 8 Start Screen Wallpapers 1440×900
Download – Windows 8 Start Screen Wallpapers 1600×900
Download – Windows 8 Start Screen Wallpapers 1920×1080
Enjoy and let me know what you think in the comments section!