Windows loves to help you. It will send you targeted advertising because you will like it, it will give you games that you need that you didn't know you needed, and it will offer up advice on how to make your computing experience more wonderful than it already is– it knows how to do this because it is constantly watching you. All joking aside, there is one area where it can actually be quite helpful and that is in the troubleshooting applets that are bundled right in the operating system.
This week's Quick Tips article will show you how to change the way Windows handles the automated troubleshooting maintenance that goes on behind the scenes.
Getting To The Setting
Use the Windows key + I to open Settings
Choose Update & Security
In the left panel, choose Troubleshoot
That should bring you here:
Note: There used to be an option on this screen to disable troubleshooting altogether but it is no longer there, at least not in the version I am now running (Windows 10 Pro v1903). Yes, I took the plunge this last Saturday– so far, so good…
If your version has this setting, you can disable it completely at this point.
As shown in the above image, in this window you will find a short list of common troubleshooters that Windows can run for you if you are having a problem in one of those areas. Sometimes they work and sometimes they don't– you won't know if it will hurt or help unless you try them. For this reason, I like to have more control over Windows' helpful nature. To do so, click on the indicated link labeled Recommended troubleshooting settings. That should bring you here:
In the right panel, you will have to scroll down until you find the Recommended troubleshooting section.
There is a drop-down menu containing the indicated choices. Since we never know if a troubleshooter will help or hinder, I take the cautious route and have Windows ask me before it tries to help me. This is a better deal than I ever got with Candy Crush.
One thing I have to admit that is a big advancement in the new Settings system is that you never have to reboot your computer for your changes to take effect. That's a huge improvement over older systems.
Bonus Tip – Control Panel
The Settings App shows you a short-list of troubleshooters, but Control Panel will show you all of them. Here's how:
Open Control Panel by clicking the Start button and typing control panel. Click the item in the resulting list. If you would like to learn how to add a convenient Control Panel shortcut on your Desktop, then please read this article:  Windows 10 Quick Tips – Control Panel
Make sure you are viewing either Small or Large icons and not Categories (this setting is in the upper-right corner)
Click on Troubleshooting
In the window that opens, look for View all in the left panel and click it
That should bring you here: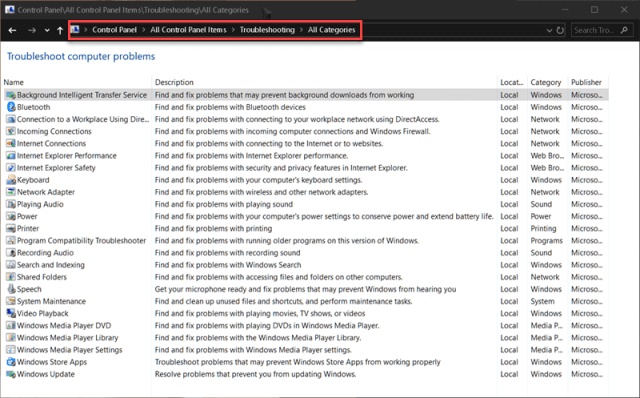 Clicking any of the entries in this list will fire up the associated troubleshooter. Please note that there is an easily overlooked link labeled Advanced in the troubleshooters:
Clicking this link will give you the choice of whether Windows will automatically fix errors it may find. Allowing it to do so seems counterindicated seeing as how we are running this manually to begin with– don't ya think?
As always, if you have any helpful suggestions, comments or questions, please share them with us,
Richard
—