Windows Defender
Windows 10 comes with a bundled antivirus/anti-malware program called Windows Defender. Many people don't think it is a strong enough antivirus (AV) solution and opt for either a free or paid-for third-party program. Granted, Defender is currently used as a baseline AV program meaning it is generally seen as the least effective in its genre. Indeed, if you visit the AV-Test site, you will see that Windows Defender is still at or near the bottom of the list when sorted by Protection.
Of course, being the contrary person that I am, I beg to differ. I've been using Windows Defender, and only Windows Defender, for years. I run an occasional manual scan with MalwareBytes AntiMalware, but other than that, nothing. The point being that I haven't been infected with malware of any sort in all that time. (Knock on wood.) Of course, I follow all the caveats preached on DCT about "surfing" safely and wisely on the Internet– the main one being, "READ THE SCREEN!" It seems that many people don't follow this rule and wildly click everywhere, only to end up scratching their heads wondering how they find themselves in troublesome situations.
Schedules
Windows Defender will run a daily scan, or at least, it is supposed to. If enough scans are missed or otherwise abruptly stopped, Windows will notify you that a scan is necessary. You can, however, change this schedule to most anything you like and that is what I will show you today in this Quick Tips article.
Task Scheduler
You will need to open the Task Scheduler. To do so, follow these simple steps:
Use the Windows hotkey, Windows Key + R to bring up the Run Box
Type taskschd.msc and hit the Enter key to open the Task Scheduler program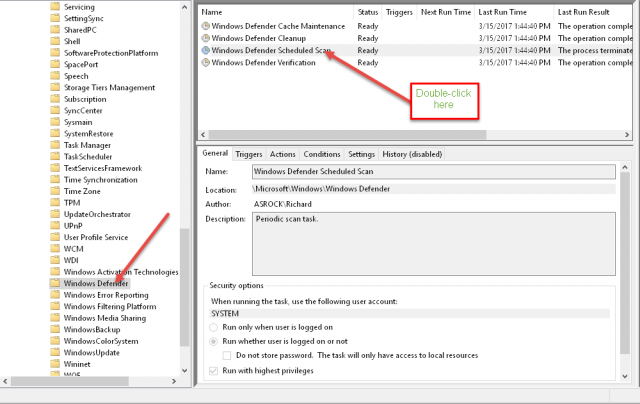 Triggers Tab
3. In the Task Scheduler's left Navigation Panel, drill down the following path to Windows Defender: Task Scheduler Library–>Microsoft–>Windows–>Windows Defender
4. Double-click Windows Defender Scheduled Scan in the panel to the right as indicated in the above image. That should bring you to this window: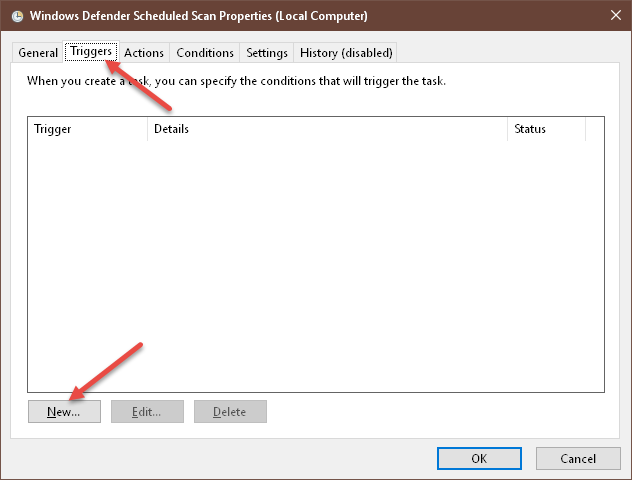 5. Click the Triggers tab
6. Click the New button to bring you here:
7. You can select the frequency on the left.
Note: We recommend using either a Daily or Weekly setting. In Windows 8.x, choosing Monthly caused the schedule not to run; this may have been fixed in Windows 10, but I do not know.
8. Select the desired Start Date and Time
9. Check the Enabled box, then click the OK button
Actions Tab
You should now be back at the Schedule Properties Sheet.
Click the Actions Tab
Click the Edit button; that should bring you here:
3. The indicated command is not surround by quotation marks by default. Be sure to add them!
4. You have a choice between scheduling a Quick Scan or a Full Scan.
Quick scan: Scan -ScheduleJob
Full Scan: Scan -ScheduleJob -ScanType 2
Note: Pay special attention to syntax. Spaces are important when using these switches. (You can copy and paste one of the above if you are not sure.)

5. When you are satisfied with your choices, click the OK button
Conditions Tab
Back on the Properties Sheet, click the Conditions Tab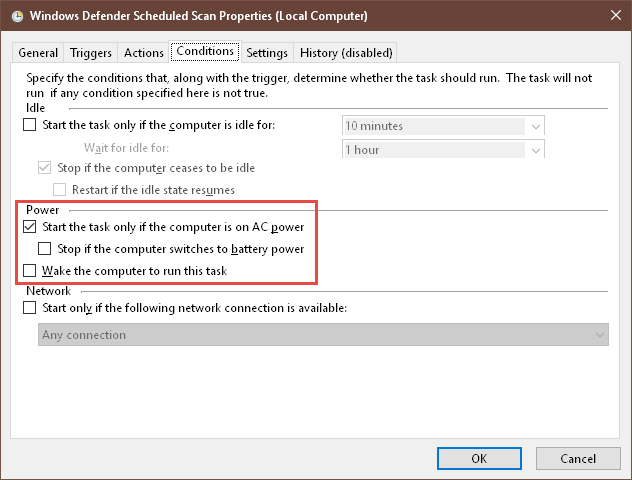 Here, you can choose certain Power situations governing when this schedule will run:
On AC power
Yes/No if on Battery power
Should the Task wake the computer from Sleep Mode to run this Task
Other conditions may be set here, as well, if you like
Check the appropriate boxes and click the OK button when finished.
Results

All done! You can now close the Task Scheduler window and Windows Defender will run on a schedule according to the rules you have set in the previous steps.
Final Thoughts
Windows Defender may not be the toughest kid on the block, but it does the job for me. I especially like that it is integrated into the operating system and therefore uses very little in the way of resources, unlike many bloated AV alternatives on the market today.
As always, if you have any comments and/or suggestions, please share,
Richard
—