Windows 10 Hibernation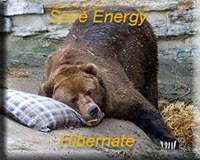 "Hibernation is a state of inactivity and metabolic depression in endotherms."  Wikipedia
In Windows, too, hibernation is a state of inactivity. It differs from "sleep" in that it consumes no power. When a computer is "sleeping", a certain power draw is maintained to keep the memory "alive", and that in turn keeps the current state of the computer intact. Hibernation, on the other hand, copies the current state of the machine to your drive, then switches off the power. When you turn the computer back on, Windows has a copy of its previous state to copy off the drive back into memory. This is much faster than running a clean boot and has the added advantage of returning your system to how you had it before turning the computer off, all without consuming electricity in the meantime..
This week's Quick Tips article will show you how to enable/disable Hibernation and we'll also talk a bit about the different types of Hibernation files.
The Hibernation File (hiberfil.sys)
Using the hibernation feature on your computer has a few advantages but there is also a downside. The file Windows creates on your drive can be huge and if you're low on disk space, then a hibernation file might not be a good choice. There are two types of hibernation files that you can tell Windows to use: Full and Reduced. I'll tell you about them a bit later, but they both take up plenty of disk space.
Enable/Disable Hibernation
You can easily tell if Hibernation is enabled on your computer. Simply open up your favorite file manager, navigate to the root directory of your system drive, and look for a file called hiberfil.sys. If it exists, then hibernation is enabled.
Use the Windows Key + X shortcut to open the WinX menu
Click on Command Prompt (Admin) to open up a DOS Box with elevated rights
That should bring you to a window like this one:

To enable Hibernation, type this: powercfg -h on and hit Enter
To disable Hibernation, type this: powercfg -h off and hit Enter
You should reboot your computer to make sure the settings take effect. Check the root directory of your system drive to see that hiberfil.sys is there (enabled), or not (disabled).
Full or Reduced Hibernation
As mentioned earlier, hibernation files can be huge. A Full hibernation file can be equal in size to about 75% of the amount of RAM (memory) installed in your computer. Let's think about that for a minute. If you have 8GB of RAM installed, then 75% of that is about 6GB and that's how big your hibernation file might be. This will vary in size but it gives you an idea. 6GB is a lot of room to suck up on a smaller Solid State Drive (SSD), for example. The problem only gets worse if you have more RAM installed.
There is a smaller version of the hibernation file that you can use to reduce this file size to about half but will remove the Hibernate option from the Power Menu and will only allow you to use the Windows Fast Boot option.
Here's how to set this up to use either the Full or Reduced file sizes.
Note: See the previous section to open an Administrative Command Prompt.
Full Size – In the Command Prompt, type powercfg /h /type full and hit Enter
Reduced Size – In the Command Prompt, type powercfg /h /type reduced and hit Enter
You should reboot your system to be sure your new settings take effect.
Final Thoughts
The Hibernation feature is most useful for laptop computers where power consumption is a constant concern and not so much on desktop systems. Windows Fast Boot, which requires hibernation to be enabled in order to work, is a questionable choice. Some computer users have reported stability problems when using this feature, so the choice is yours. If it works for you, then all is good. I would much rather have a stable system than to shave a couple of seconds off the boot time. After all, what's a couple of seconds, anyway…
As always, if you have any helpful suggestions, comments or questions, please share them with us,
Richard
—