Free Up Some Drive Space
This Windows 10 Quick Tip is geared more towards gamers than casual Windows users.If you have terabytes of free Hard Disk Drive (HDD) space, then downloading huge games to your HDD isn't going to be much of a problem. If, on the other hand, you are running these games from a Solid State Drive (SSD) with much lower storage capacity, then you might be running out of space.
CCleaner is a great utility that will help keep all the junk and temporary files at bay, but it doesn't know a thing about all the files that games install on your system. Games use a large number of temporary files when being installed on your computer. The problem is that most of the time, they don't clean these files up after using them.
Steam Cleaner
Steam Cleaner is a small utility that knows about providers like Origin, Steam and GoG, to name a few. When you run Steam Cleaner it will find those temporary files left behind by sloppy game clients.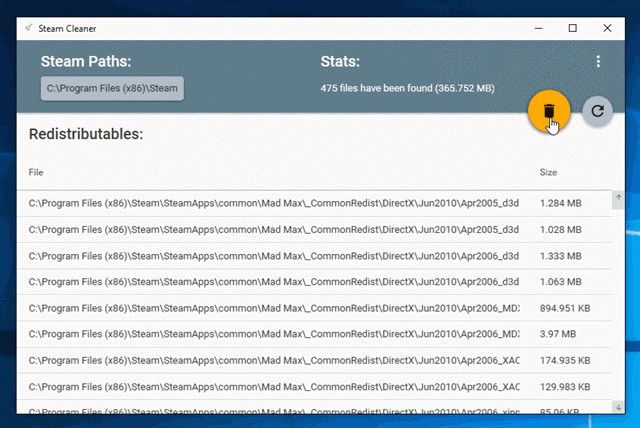 The above image is one I downloaded from the internet. When I ran my version I didn't have the foresight to grab an image. This post hadn't entered my mind until after the fact and there were no longer any files to show you. So much for forward thinking…
Steam Cleaner is Free and Portable, and you will find it at this GitHub site.
Note: Steam Cleaner is a work in progress and lacks a settings feature.
I have read that sometimes it can't find the Steam folder. That, of course, would make it pretty useless if that's the only game client you use. Lacking a Settings Menu, there is no way to point it in the right direction, either.
On my computer, Steam Cleaner found roughly 360MB worth of temporary files to remove. That was in spite of having all my games (Steam included) on another SSD. Very nice. I'll be keeping this little gem in my toolbox,
Richard
—