No doubt you will be aware that the next major Windows 10 update, dubbed "Creators Update" is due to start rolling out from April 11th. I have wondered about the significance of the name "Creators Update" and, following a a little research, discovered that Microsoft is pushing its new Paint 3D app as the major new feature – hence the "Creators". However, the majority of changes have little to do with any sort of creativity.
In fact, overall, this "Creators Update" seems rather like a minor major update to me, not too many major new features but lots of minor tweaks, changes, and enhancements. It all seems a tad contrary to Microsoft's much trumpeted "Windows as a Service" policy to include all these minor changes, many of which have been ready for weeks or months. Surely one of the points of "Windows as a Service" is that these features aren't held back for a "major release" but rather shipped as soon as they become available?
Creators Update Major Features
As mentioned earlier, the new Paint 3D app is, apparently, the main inspiration behind Microsoft's naming protocol and it is also being touted as one of the major new features shipping with the Creators Update: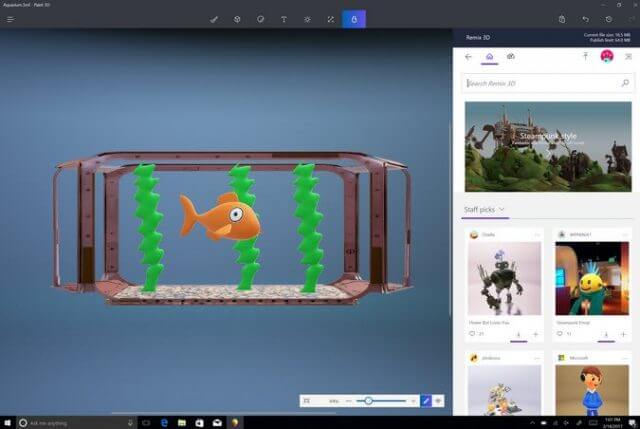 With the new Paint 3D app in the Creators Update, it's simple to create 3D objects from scratch, easily changing colors, stamping textures, or turning a 2D picture into a 3D work of art.
Beam streaming gameplay platform is also included, which I guess does involve a certain degree of creativity: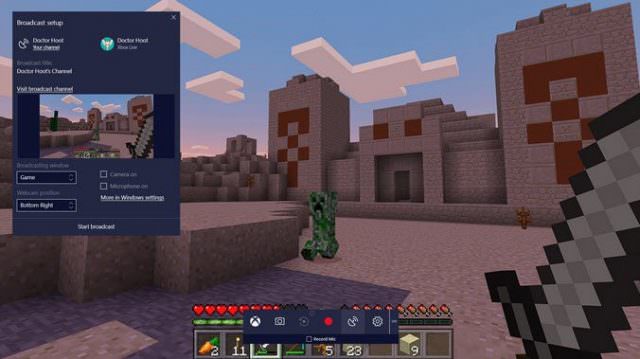 Built-in game broadcasting on Windows 10. Now you can effortlessly stream your gameplay using the Game Bar—just hit Windows + G, click Broadcast, and start streaming on Beam—all without the need for additional log-ins.
Mixed Reality is a rebranding of the Windows Holographic platform which allows users to experience Virtual Reality on their Windows 10 device: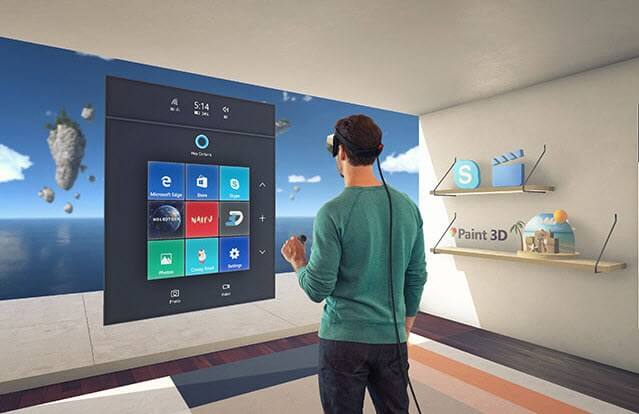 A new world of mixed-reality experience is waiting for you. Use your Windows 10 PC and a compatible headset to enjoy familiar Windows apps, features and navigation while discovering new apps, games and media. Ideal for AR, VR and everything in between.
NOTE: This is more of a future proofing feature than ready right now: "Our partners – including HP, Lenovo, Dell, Acer and ASUS – will be introducing a range of VR headsets starting at 299 $ US with innovative built-in sensor technology for more flexibility and easy, marker-free set-up. Watch for yours. Coming in 2017″.
Minor Tweaks, Changes, Innovations
For gamers too; there's a new Game Mode option which allegedly minimizes background processes while gaming. Privacy setting have been condensed/simplified and the "Enhanced" telemetry option has been removed to leave only either "Full" or "Basic". Apparently, the "Basic" option will also involve a newly reduced level of data collection.
There is a plethora of other minor enhancements, many associated with Edge and Cortana; here is a summary of the most notable:
Action center shows download progress for apps
Braille support (in Ease of Access settings)
Cortana "pick up where you left off" feature
Cortana: additional voice commands
Download Windows 10 themes from Store
New ebook section in Windows Store
Dynamic lock: lock PC automatically when paired phone is not connected
Added Epub support in Edge
Edge: read aloud mode for ebooks
Gaming section in Windows settings
New options for Windows Update and Share
New inking features including left-handed option
Night Light option in Display settings; reduces blue light
PowerShell given more prominence than Command Prompt
Redesigned camera app
RegEdit has new Address Bar, for easier navigation
Start menu: show or hide app list
Storage Sense setting automatically frees up space
Troubleshooting option in Settings
USB Audio 2.0 native support
Virtual touchpad for external displays
Windows Defender new notification icon and security center
Windows update no longer reinstalls removed applications
Pause Windows Updates for up to 35 days
*Some of these features may not be available in Windows 10 Home.
Bottom Line
These major Windows 10 updates are definitely a bit of a worry. I, for one, experienced a lot of problems when trying to install the Anniversary Update. However, the Creators Update can be deferred for a period, until such times as maybe any wrinkles have been ironed out. Richard Pedersen recently wrote a terrific article on this very topic which you can refer to here: How To Defer The Scary Creator's Update.
Of course, creating and saving a full system image prior to the installation of any major update is always a good idea.
—