Zorin OS is a Linux (Ubuntu-based) operating system specifically designed to help traditional Windows users migrate as easily as possible to an alternative operating system. My first encounter with Zorin OS occurred almost 18 months ago. At that time, I checked out Zorin OS via the live DVD and published an article here: Zorin OS – Linux for the masses?. I had every intention of installing Zorin for the full-on experience and subsequently publishing a follow up article but alas, try as I might, I could not get it to install successfully.
So here we are, some one a half years later, and I finally got round to installing Zorin for a proper look see – and now that XP's end of support date has finally arrived, the timing couldn't have been better. To save on typing, here is an excerpt from that original Zorin article to hep with the introduction:
What if there was a version of Linux which looked and behaved in the same manner as Windows 7 or XP… would that arouse your interest? Well it did mine. I must admit I hadn't come across Zorin OS previously but now I have, I do like the sound of it. Zorin bills itself as the easy migration path from Windows to Linux, and it certainly gives that impression. Zorin OS is based around the popular Ubuntu distro which traditionally runs the Gnome desktop but there is one major difference; Zorin OS includes a unique "Look Changer" feature which lets users change the interface to mimic Windows. All users need do is click on an appropriate 'Windows 7′ or 'XP' button and the desktop will look and behave accordingly.
So, the question to be answered now is; how closely does Zorin OS live up to its claims?
Zorin OS – Download and Installation

Zorin OS comes in both free and premium editions. The free edition is well and truly adequate for most users needs and is available in both 32-bit and 64-bit versions, I downloaded the 32-bit version which consists of a 1.5 GB ISO.
In order to replicate the hardware environment many XP users might be dealing with, I chose to install Zorin OS on my old Dell Pentium 4 machine (1 GB RAM) running XP, and immediately ran into a minor problem – the old Dell's ROM drive would not recognize the Zorin OS installation DVD. Fortunately, BIOS included a boot from USB option so I used an excellent freeware called 'Rufus' to create a bootable USB flash drive, and that worked perfectly. I mention this because it's likely that a similar scenario may present itself for those installing Zorin on older machines. Rufus is portable, no installation required, and is both quick and easy to use.
Installation is quite straightforward with the usual questions requiring the usual responses; location, keyboard layout, user name, etc.- it's also surprisingly fast.
Goodbye XP – Hello Zorin!
Now we get to the nitty gritty, here is a screenshot of the Zorin OS desktop: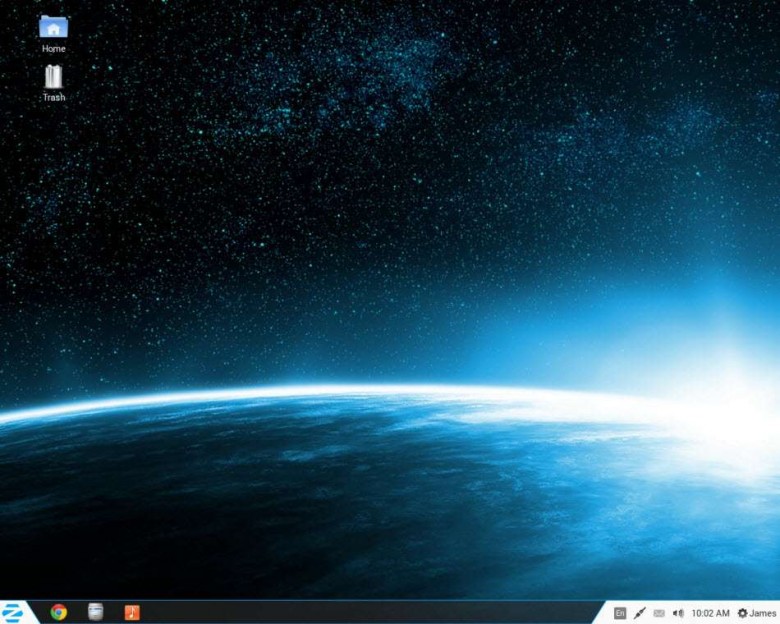 Look familiar? This is Zorin's Windows 7 style desktop. Users can easily change the interface however, including to an XP style, by utilizing Zorin's unique "Look Changer" feature: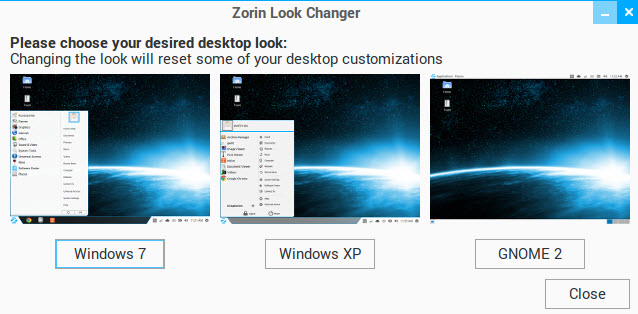 The funny looking button at bottom left of the desktop is actually the Zorin logo and provides access to Zorin's version of the Start Menu. Clicking on that button will display a menu very similar to the traditional Windows Start Menu – yes, the one that went missing in Windows 8: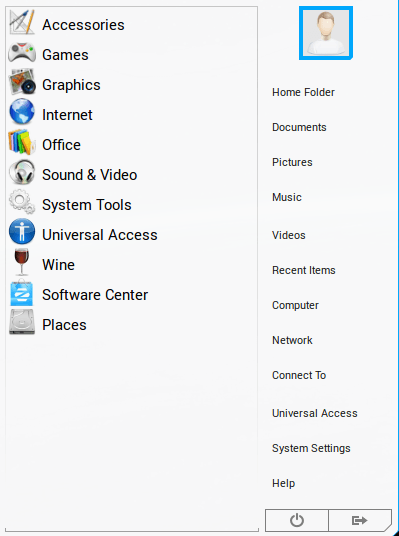 With the Start Menu providing the hub, navigation is very similar to that of Windows XP and 7. Folders too have a familiar look, with similar display and options. Here's a screenshot of the Home Folder: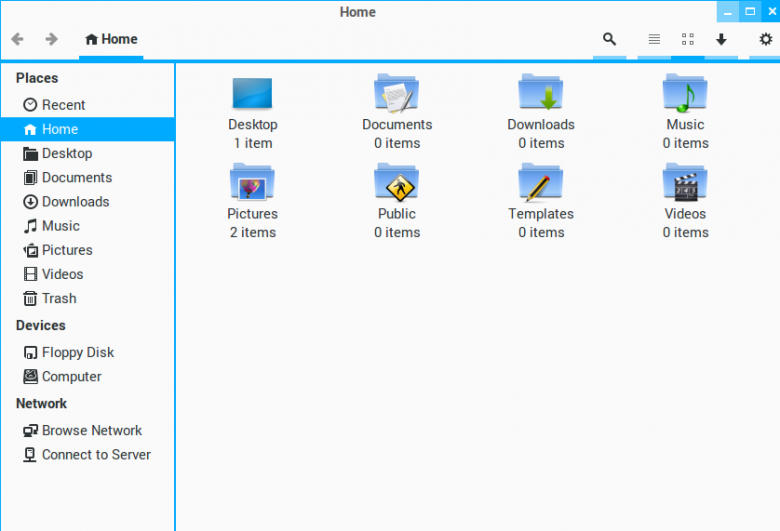 Clicking on the cog icon at the opposite end of the taskbar displays another useful menu: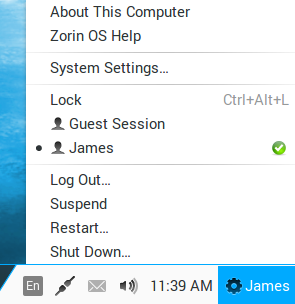 Zorin OS comes with a nice range of software pre-installed plus a multitude more available for easy download via an extensive "Software Center". Just about everything the user will require for day to day operations as well as plenty of programs for specialist tasks: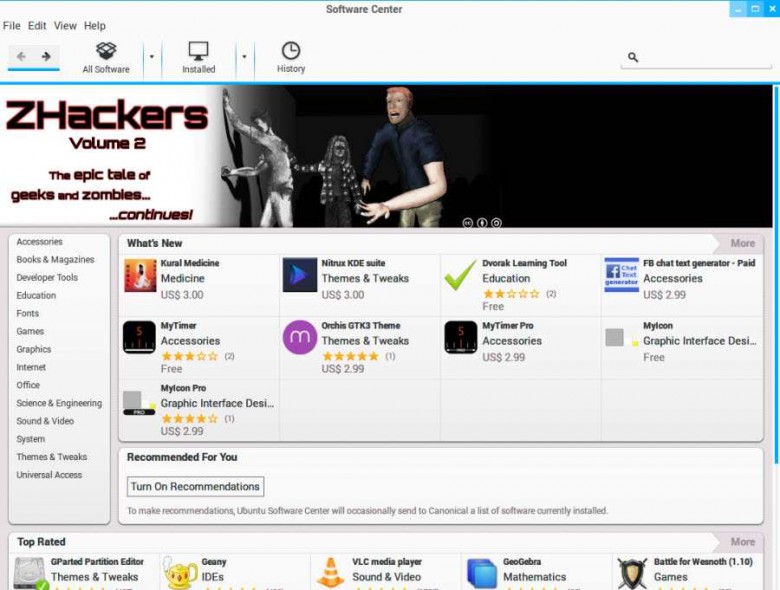 Here is a selection of titles – nowhere near everything, but generally representative of primary functionality:
7-Zip – compression/uncompression tool. KeePassX – password manager. Virtual Box – create virtual machines. Synergy – share mouse and keyboard over a network. Spamassassin – spam filter. GIMP – image editor. MyPaint – paint program. Calibre – eBook library manager/converter. qBittorrent – torrent download manager. Dropbox – cloud based file sync and share. Evolution Mail – email client and calendar. Thunderbird – Mozilla's email client. Chrome & Firefox – web browsers. LibreOffice – office suite. VLC – media player. Audacity – audio recorder/editor. DVD Styler – DVD authoring. Wine – run Windows software.
As well as a selection of image viewers and editors, video converters and downloaders, system tools, and a myriad of other applications, including a good selection of games… far too many to list here.
Zorin OS – Bottom Line
So, the big question; how close does Zorin OS come to replicating the Windows experience? Very close! Zorin OS replicates a lot of Windows-style functionality for basic operations; copying and moving files, creating desktop shortcuts, pinning applications to the taskbar, etc., are all very similar, if not identical.
Naturally, there are some differences in the way certain features are accessed and/or initiated so it still involves a slight learning curve – for example; accessing installed programs is initially a tad foreign but if you refer to the previous Start Menu screenshot, you'll notice the software categories included – just click on whichever category is appropriate to the program you are looking for. Overall though, the road to familiarity should be a relatively short one for most Windows users.
As for how the antiquated hardware handles Zorin OS… no problem, no problem at all. Boot time is brilliant and the system highly responsive. I might add too that Zorin OS's hardware support appears to be very good. After I fresh installed XP on the same machine several months ago, the audio wasn't working (among other things) and I needed to chase round after numerous drivers. Whereas everything worked right out of the box after installing Zorin.
For XP users, or any Windows users for that matter, who may be contemplating installing an alternative operating system, without needing to go through a steep learning curve, I can highly recommend Zorin OS.
Finally, one minor negative: quite a few operations in Zorin require the user to input a password, especially when installing or uninstalling software. This is quite common with Linux, it is a valid security measure and not necessarily a bad thing, but it can become a tad tiresome at times, especially during the initial setup process. Perhaps there's a setting that can overcome this, I haven't come across one yet but it's still early days for this Zorin user. 🙂
**Fellow author Marc Thomas has also published an article suggesting a possible replacement for XP, Linux Mint. You can catch up with Marc's article here: Wake up to that fresh, Minty taste!