Computers and technology have spawned a number of great rivalries over the years and none more so than between the two major CPU producers – Intel and AMD. Intel has pretty much dominated the CPU market for much of the past couple of decades but, with the release of its Ryzen series of processors, has AMD finally produced a worthy competitor?
In years gone by I have worked on plenty of AMD-powered machines and have invariably been frustrated by their poor performance – slow doesn't even begin to describe it. AMD CPUs were well-known to be inferior to Intel equivalents and that was largely down to major differences in architecture. Intel chose to focus on IPC (instructions Per Cycle/Clock) improvements while AMD focused on parallelism. Intel's approach equipped processors with fewer but extremely powerful cores while AMD's approach included more, but far weaker, cores.
IPC governs the number of instructions that can be executed in a single clock cycle and an IPC uplift improves a CPU's efficiency by a considerable margin. AMD finally caught on and, with the introduction of its Ryzen series of processors in 2017, managed a 50%+ improvement in IPC, finally closing the gap on Intel.
(Credit: PassMark CPU Benchmarks)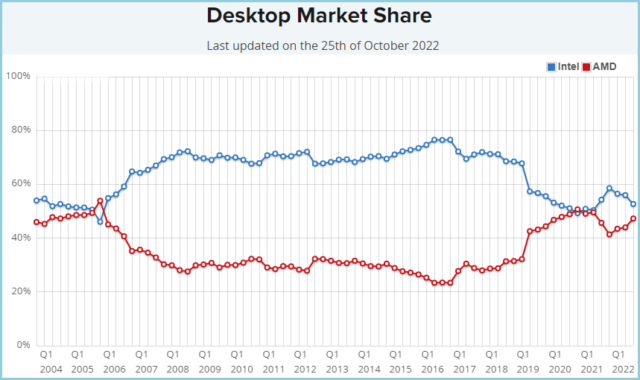 As you can see from the above graph, the market share for desktop PCs has gone from 80% Intel/20% AMD in 2016 to roughly 50% each in 2022. A quite remarkable turnaround.
I have always been an Intel man myself, there was a time when I wouldn't touch an AMD processor with a barge pole. However, times change, especially in the world of technology, and I would now have no qualms about buying or building a machine powered by a Ryzen series processor. When formulating the idea for this article, I had originally intended to include a number of benchmarks for comparison purposes. However, I hit a couple of stumbling blocks:
There is such a variety in Intel and AMD models that getting a handle on exact equivalents is very difficult
There are way too many different benchmarks, each measuring different aspects of a processor's performance
That said, you will find lots of information relating to processors at PassMark Software-CPU Benchmarks, including performance ranking charts and a feature where you can directly compare one CPU with another.
Which Is The Best CPU For You
As I mentioned earlier, I've long been an Intel man – all my machines have been fitted with a high-end Intel i5 series quad-core processor. I've always found that the i5 provides the perfect performance:value ratio for my particular purposes. That said, my latest machine is running an Intel i7-11700. I've never been a fan of the Intel i3 series – I do not believe the i3 provides a very good performance:value ratio and, if a client is looking for an entry-level machine and working to a budget, I'll always recommend a high-end Pentium rather than going with an i3. If you're not happy with a Pentium series CPU, I strongly recommend skipping the i3 and going with an i5 series.
Choosing a CPU is very much a matter of horses for courses. For example, keen gamers are always going to want a high-performance CPU whereas the average home user, who is merely using the PC for email and the occasional browsing, will get by with a less powerful and less expensive CPU. When it comes to the question, Intel or AMD? I'm of the opinion that the two are so close in terms of performance these days, it's a matter of a coin toss.
Are you an Intel or AMD person? And, if you're an Intel person, would you consider going with a Ryzen series processor, especially if the price is right? Let us know in the comments.
—