I love tech.  Gadgets, in particular.  When I saw on November 6th that Amazon was going to release Amazon Echo, a kind of Siri-meets-Sonos device, I had to have one.   As an Amazon Prime member, the cost "for a limited time" would be $99; otherwise, $199.  $99 for a potentially cool gadget.  I was all in.   So I requested an invitation.
Amazon started sending out invitations on November 18th.   I checked my Inbox.  No invitation.  After several days without an invitation, I emailed Amazon on November 22nd to see where my invitation was.  Their reply was:

There's still a chance??? If I'm selected???  Are they crazy????
On November 27th, I took to Twitter, tweeting about the whereabouts of my invitation:

As the days passed, my anxiety increased over my lack of an invitation:
I tweeted just about daily, lamenting my lack of  an invitation.  Until, FINALLY, on December 8th, I got my invitation.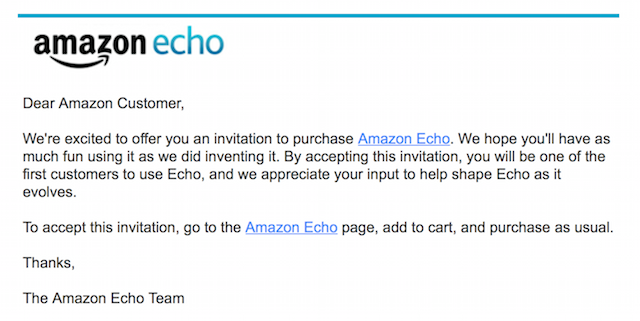 On December 10th, my Amazon Echo arrived.   Yay!
It was very simple to set up.  Plug it in, sign it on to the network, pair it with my Android device.  Wait, Android device??  What Android device??  Don't they know me??  I live exclusively in the iOS world.  No iOS app??  Uh-oh.  My husband has a Nexus tablet that he doesn't really use much.  I updated it to Jellybean, downloaded the app and paired the Echo and Nexus tablet.
If I had no Android device available, I also could have used Safari on my iPad or MacBook Pro to manage settings, music, etc.
Thankfully, an iOS version of the app was released on December 11th so I am back to an iOS-exclusive world.
So, you've read this far and you're thinking, "Is she ever going to tell me what the heck the Amazon Echo is?"  Now is the time.
Amazon Echo is a voice-controlled device from Amazon (of, course).  The reason that I said it is Siri-meets-Sonos is because its function include answering general questions (a la Siri) and playing music (a la Sonos).   Echo is a 9.5-inch (23.5 cm) tall cylinder speaker with a seven microphone sensor array and speakers that include a 2.5-inch woofer and a 2.0-inch tweeter to deliver 360-degree sound.  It also has a remote control (which I have yet to have the need to use.)  It is powered by an AC adapter.
The device responds to the name "Alexa".  If you don't like "Alexa" or, perchance, have an Alexa in your household, you can change the name to "Amazon".  Those are the only two options (for now).
The Amazon Echo can support multiple profiles and plays music and manages shopping and to-do lists for each profile.  In addition, metric units can be set as the default measurement in the companion app.
So, the question that I am trying to answer through my experience with Alexa is "Was Amazon Echo worth the wait?"  For $99, most definitely. I have taken to listening to music more frequently and I find myself using it for weather and news information.  For $199?  I would still say "yes".  But, like I said, I love gadgets.
The history of what you ask Alexa, along with her responses and additional information is available in the companion app.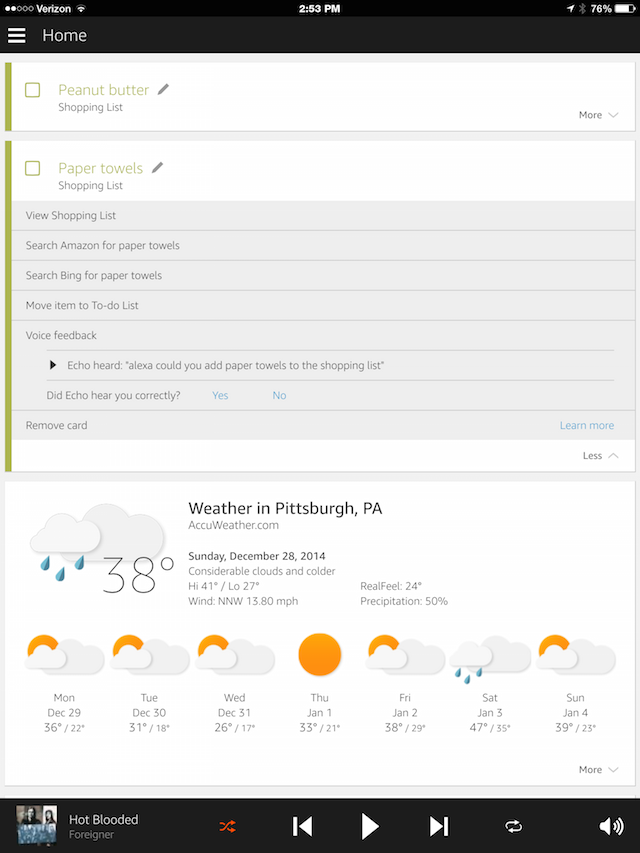 Below is some additional information as well as examples for the types of requests that you can ask of Alexa.   Note that "Alexa" must precede each request.
WEATHER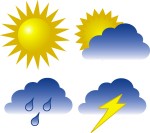 Local weather is based on the zip code identified in the companion app.
"What's the weather?"
"What's the weather tomorrow/this weekend?"
"What's the weather in <city>?"
"Is it going to snow/rain on Monday?"
GENERAL KNOWLEDGE QUESTIONS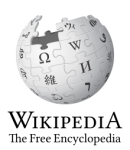 Wikipedia is used as the source for general knowledge questions.
"What year was the first manned lunar landing?" (1969 but I already knew that.)
"How many teaspoons are in 2/3 cup?" (10-2/3 which I didn't know but had a pretty good idea.)
You can also ask Alexa to tell you a joke.  They are of the G-rated, extremely corny genre (which suits me just fine).  Sometimes you just need to hear a really awful joke.
MUSIC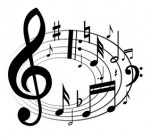 There are several music sources available — iHeartRadio, TuneIn, Prime Music and your own music (iTunes, Windows Media Player, or your computer's music folders.)
I've used TuneIn radio to listen to KDKA, which was the world's first commercial radio station (by the way).
If you are an Amazon Prime member, Prime Music is free and, so far, it has met all of my music needs.  I started out with a few specific commands such as "Play music by Eddie Money from Prime Music" and "Play music by Boston from Prime Music".   Alexa figured out what kind of music I like.  Now, I just say "Alexa, play music from Prime Music."  Alexa plays a playlist based on prior requests.  For the most part, it's a really good playlist.  Occasionally, there is a song that I don't like so I just say "Alexa, next song" to move on to the next song.
iHeart Radio – Link or set up a free account to play commercial-free custom stations based on artist, mood or genre.
In terms of importing your own music, all Amazon purchases and the 1st 250 imported songs are stored for free.  For $24.99 / year, you can get an Amazon Music subscription which will allow you to import to 250,000 songs.
"Play a <genre> station."
"Play the station <station>.  I use this to list to a local station, KDKA, which was the world's first commercial radio station (by the way).
Purchasing – "Shop for music by <artist>", "Buy <song> by <artist>"
Sampling – "Sample songs by <artist>"
Prime Music – "Play music by <artist> from Prime Music." or just "Play music from Prime Music."  The latter will play a playlist based on your prior requests.
Volume – "Turn it up", "Turn it down"
Song and artist info – "What's playing?"
Navigation – "Stop", "Pause", "Resume", "Next Song"
NEWS
Flash Briefing – select categories for your news briefing – NPR News, BBC News.  Categories such as Top News, U.S., World, Sports, Tech and Science, among others, as well as Weather.
"What's my Flash Briefing?"
"What's in the news?"
Navigation – "Next", "Previous", "Pause", "Stop"
TIME MANAGEMENT

You can also set alarms and timers.  I found the timer functionality particularly useful when cooking Christmas dinner.
Date / Time
"What's the date?"
"What time is it?"
Alarms
"Wake me at <time>."
"Set alarm for <time>."
"When is my alarm set for?"
"Snooze."
"Stop."
"Cancel alarm."
Timer 
"Set the timer for <length of time>."
"How much time is left on the timer?"
"Cancel timer."
TASK MANAGEMENT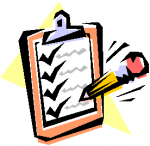 "Add <item> to my shopping list."
"I need to buy <item>."
"Add <task> to my to-do list."
No doubt that the Shopping List will, at some point, work seamlessly with Amazon's Prime Pantry to simplify purchases from Amazon.