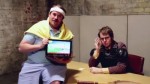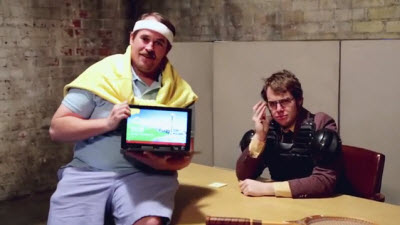 Toshiba has created a series of ads to display just how tough the company's hardware is… in a rather unconventional manner. Toshiba hired the services of two whacky dudes who put the company's products through a series of outlandish tests which go way beyond what the "dorks back at the office" say the devices are able to withstand.
Personally, I don't find the ads overly amusing, not my type of humor. However, the results are quite remarkable, and the fact that Toshiba isn't afraid to show the fail as well as the passes in these obviously extreme conditions only adds to the effect.
The first video sees our two "dudes" testing the hinge on a Toshiba Portege Ultrabook by, of all things… firing tennis balls at it. Will the hinge survive, and what harm will come to the display from the repeated impacts?
http://youtu.be/RTTZ9mlGMIc
Next, the zany duo freeze a Toshiba tablet inside a solid block of ice for two days. Can it survive the extreme cold AND being freed from its icy enclave by way of a baseball bat?
http://youtu.be/q3Y10EfryX8
Lastly, the Toshiba Portege's keyboard is rated to withstand up to 50ml of water but the lads want to see how it handles 150,000ml!
http://youtu.be/sRwuYp71j0M
Just as an aside; several years ago PC warranty providers Square Trade conducted a study to ascertain which brands of laptops have the least to highest breakdown rate. The two names which came out on top for reliability were Toshiba and Asus.