Overview
Microsoft PowerToys is a set of utilities developed by Microsoft for use with the Windows operating system. These programs add or change features to improve productivity or add customization. A while ago, I wrote about Microsoft PowerToys and my Top 5 Microsoft PowerToys. Later, I added a PowerToy to my Top 6 Microsoft PowerToys – Update article.
A new PowerToy has been added that meets my "Top" criteria. Therefore, I am updating my "Top 6 Microsoft PowerToys" list to "Top 7 Microsoft PowerToys".
Installation
The PowerToys are available for Windows 10 (v19041 or newer) and Windows 11. The PowerToys can be downloaded/installed from the Microsoft Store or Github. The PowerToys are loaded as one set; they cannot be installed individually. Once installed, a PowerToy system tray icon will be added. Right-clicking on this icon and selecting Settings will open the PowerToys menu. Here you can enable and disable the PowerToys to be loaded, set configurations for each PowerToy, and check for new versions of PowerToys.
Previous Top 5 Microsoft PowerToys
From my Top 5 Microsoft PowerToys post, these were the top 5:
Always On Top
Text Extractor
PowerRename
AwakeFile
Locksmith
In my Top 6 Microsoft PowerToys – Update post I added:
 #7 – Mouse Without Borders
Have you ever used two computers at the same time? There are two keyboards, two mice, and two monitors. You use computer A, then when you want to switch to computer B, you must switch to the second set of keyboard/mouse. When you want to switch back to computer A, you need to switch back to the first keyboard/mouse set. Every time you switch to the other monitor, you must switch to the other set of input devices. Recently, I was in this situation, then I remembered that, a few months ago, the old Microsoft Garage project Mouse Without Borders was added to the PowerToy set. I gave it a try. If you use two or more computers, Mouse Without Borders is a very useful tool. Mouse Without Borders allows you to control up to four computers from one machine (keyboard/mouse).
Features
As I mentioned earlier, Mouse Without Borders allows you to control up to four connected computers with a single set of mouse and keyboard. As you move the mouse sideways off of computer A's monitor, it will appear on the adjacent computer B's monitor. What you type on computer A's keyboard will appear on computer B's screen in whatever program you are using on that computer. The only limitation I encountered was that if I was using programs with user rights and then loaded a program with elevated administrative rights, Mouse Without Borders would not recognize the program. I would have to use that computer's mouse/keyboard. The second feature of Mouse Without Borders is clipboard sharing between the machines. The third main feature of Mouse Without Borders is the ability to transfer files (single files at a time up to 100 MB) between computers (if you need to transfer multiple files, archive them into a single zip or 7z file).
Installation
Mouse Without Boarders must be initiated on each computer. On the first computer, select New Key to generate a security key for the connection.

On the second computer (and third and fourth if you are connecting more than two), enter the generated security key and the name of the first computer. Then choose Connect.

You can also change the order of the devices by dragging the device icon to a new position in the layout.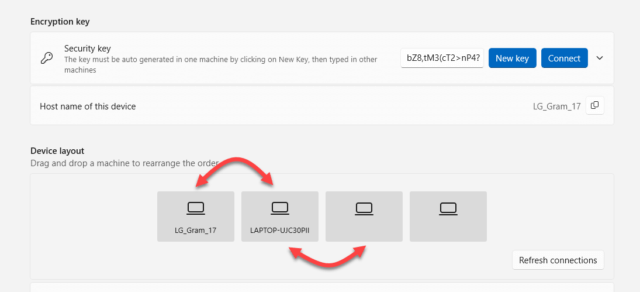 Bottom Line
Microsoft PowerToys is a set of utilities that adds features to Microsoft Windows. They can enhance your Windows experience. The new Mouse Without Borders PowerToy increases my set of top PowerToys to seven. Give them a try and let me know in the comments if you agree with my list. For an alternative opinion of the Microsoft PowerToys, check out Jim Canfield's How To Download and Use Microsoft PowerToys post.
—