Summary: When it's time to recover deleted files from an SD Card, Hard Drive, Flash Drive, etc., this powerful open source portable recovery application, (despite its command line type interface), makes deleted file recovery just about as simple as it gets.
In previous reviews, I've covered more than a few file recovery tools,  some of which have lived up to the developers' claims – but, most have not. PhotoRec, part of the bundled package included in TestDisk – despite it's name – is capable of recovering 390 types of files, according to the developer.
In the following review, I'll describe how easy it was to recover deleted photos from my camera's SD Card and, deleted music files from my iPod. As you'll see, this application is not wizard driven – but, despite that, it's still very easy to use.
First up was a recovery attempt on a camera.
On launching the application, the connected camera was immediately identified: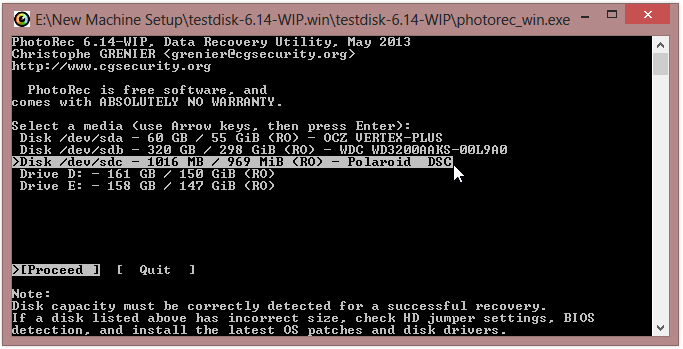 Selecting the drive was a simple matter of cursoring down, and pressing the Enter key:
In just a few minutes (under 3 minutes), PhotoRec identified and recovered 121* previously deleted photos:
* Much to my surprise, the application actually recovered 241 previously deleted photos. I'm not complaining.  
   All recovered files were saved to the recovery directory (a sub-directory of the directory the application is running from) – as shown below: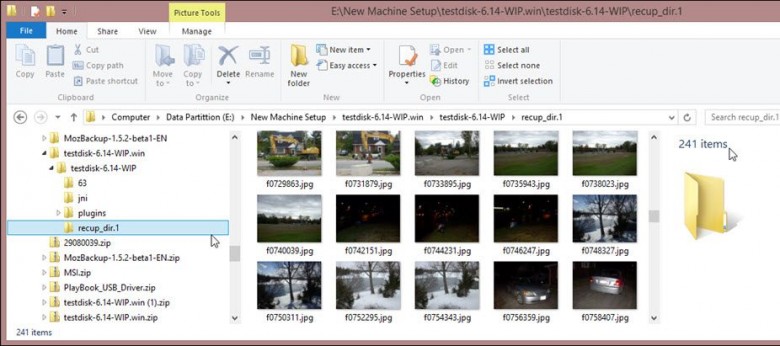 Next up – music file recovery from my iPod:
In just a few moments (less than a minute), PhotoRec identified and recovered *105 previously deleted tunes:
* The application actually recovered 106 previously deleted tunes: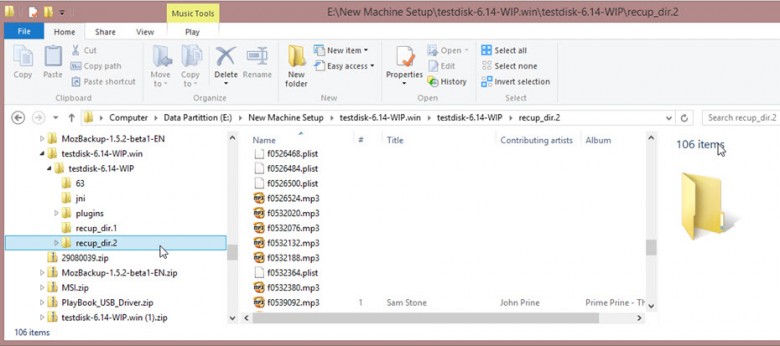 But, can they be played? You bet!
Fast facts:
Fix partition table, recover deleted partition.
Recover FAT32 boot sector from its backup.
Rebuild FAT12/FAT16/FAT32 boot sector.
Fix FAT tables.
Rebuild NTFS boot sector.
Recover NTFS boot sector from its backup.
Fix MFT using MFT mirror.
Locate ext2/ext3/ext4 Backup SuperBlock .
Undelete files from FAT, exFAT, NTFS and ext2 filesystem.
Copy files from deleted FAT, exFAT, NTFS and ext2/ext3/ext4 partitions.
System requirements: Windows (NT4, 2000, XP, 2003, Vista, 2008, Windows 7 (x86 & x64), Linux, FreeBSD, NetBSD, OpenBSD, SunOS and MacOS X. (Reviewed on Win 8 x32)
Download at: Cgsecurity.org
You may only need this application a time or two – but, wouldn't it be nice to have it sitting in your USB toolbox when you do? The answer is – YES. 🙂
<source>