Dedicated File Copiers
In this article we'll be discussing TeraCopy in particular, and file copiers in general.
Personally, I don't move/copy files in great number on a daily basis so a dedicated third-party tool isn't something I deem necessary. However, for those of you who do follow this behavior, it may be very helpful.
I've always maintained, and still do, that no matter what the advertisements tell you, your file transfer speeds are limited by your hardware. No software solution, no matter how sophisticated it may be, will increase those speeds. Granted, with some slick caching tricks, it may appear to be faster, but it is ultimately an illusion.
Here are some examples
I chose a couple different scenarios for comparison. Please note that these examples are for speed tests, only. First, I copied about 30,000 files with a total size of about 33GBs. Here are the results:
Numerous files
Normal Windows Copy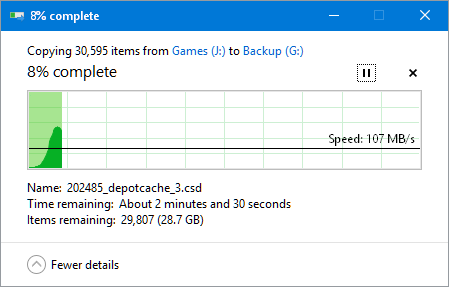 TeraCopy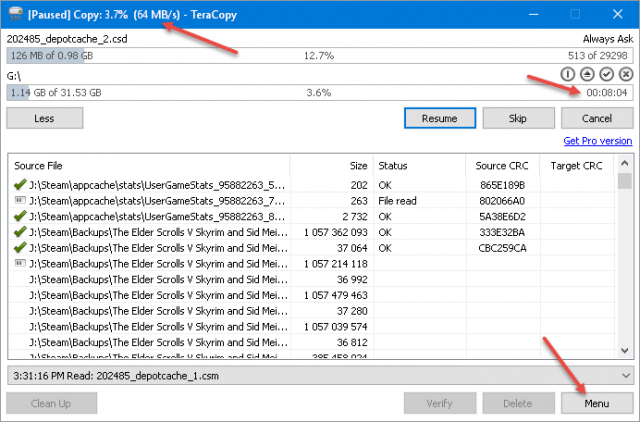 According to the respective estimated times to completion, Windows flat-out beats TeraCopy. I will concede that Windows time estimates fluctuate wildly and at any given moment the report may change dramatically. Also, during this test, TeraCopy maintained a more constant transfer rate throughout the operation than did Windows.
By using the indicated Menu Button, you can choose to change some preferences. I'll show you that screen a little later.
Single Large File
This time, I chose a single Windows ISO that came in at a bit under 4GB. Here's how it went…
Normal Windows Copy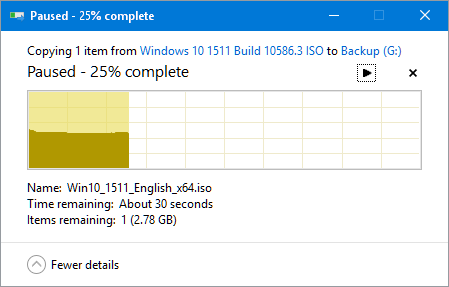 TeraCopy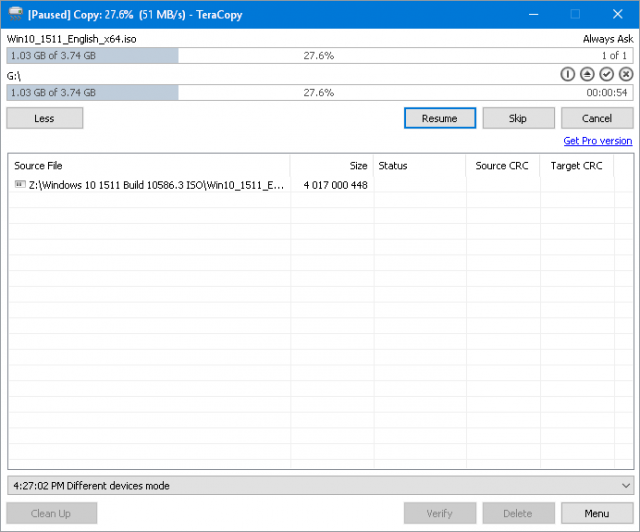 "Second verse, same as the first". My results were basically the same– no speed improvements worth mentioning.
So, Why Bother?
Recovery from bad files
TeraCopy, and I presume other dedicated File Copiers, offer a distinct advantage over the Windows native file transfer applet. If you are copying/moving a huge number of files using Windows, and one of those files is corrupted, the operation will stop. You could have copied 29,999 files out of 30,000 and it will stop. It may or may not complete those thousands of files and you won't know which ones were successfully copied. Basically, you have to start over. Big-time bummer.
With TeraCopy, that will not be the case. TeraCopy will mark the offending file and notify you which one failed at the end of the operation. In other words, a single bad file won't mash up the other transfers. Obviously, this is of great benefit and can save you tons of time and freaking frustration.
Validation
Another benefit is validation. After spending seemingly copious amounts of time copying/moving files, it would be nice to know that the operation succeeded. TeraCopy will check all the files by doing a comparison of the originals with the copies. After all, the copies are worthless if they aren't actually copies, aren't they. This is one of TeraCopy's Options as it does add a lot of time to the transfer– probably about double.
Hash Comparison
Another plus is MD5 hash generation.
The MD5 algorithm is a widely used hash function producing a 128-bit hash value. Although MD5 was initially designed to be used as a cryptographic hash function, it has been found to suffer from extensive vulnerabilities. It can still be used as a checksum to verify data integrity, but only against unintentional corruption. Source – Wikipedia
If you check out the above Wikipedia article, you will see there are limitations.
Integration with Windows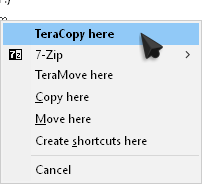 If you use File Manager, bundled with Windows, TeraCopy can be used as the default copy/move mechanism (optional). It will automatically take over any drag-and-drop or copy/move functions you choose.
I use a third-party file manager called Explorer++ and the only way I can use this feature is if I Right-Click/Drag. Then I'll see the TeraCopy options in the Context Menu.
Preferences
This shows you the choices TeraCopy offers in its Preferences window. There are even a couple of references to a couple third-party file managers that it can integrate with.
I should point out that during the installation of this product you are given the option of installing TeraCopy as a portable utility. I haven't tried this and can make no comment about how well it works in that configuration.
Pro Versus Free
So far, I have only shown you what is available in the Free version. Here are a few extras you will get if you decide to cough up some dough:
Copy/move to your favorite folders.
Save reports as HTML and CSV files.
Select files with the same extension/folder.
Remove the selected files from the copy queue.
More features coming soon!
The above list comes directly from the Official TeraCopy Site.
My Take
As mentioned earlier, I don't really have a use for these types of utilities. I certainly wouldn't spend any money on one, but that's just me. They aren't truly faster and that's the only thing about them that would interest me. I guess I simply have no need at this point in time.
Your Turn
Do you use a File Copy/Move Utility? Any benefits that I've over-looked? Do you use TeraCopy or would you suggest another? Let us know…
Richard
—