"A rootkit is a stealthy type of software, designed to hide the existence of certain processes or programs from normal methods of detection and enable continued privileged access to a computer." <ex Wikipedia>
Rootkits can be very difficult to identify and eradicate, and represent one of the most insidious and damaging forms of malware. Fortunately, there are some pretty good anti-rootkit programs already available; Kaspersky TDSSKiller, Avast Anti-Rootkit and GMER among them. However, when a security software developer of Malwarebyte's standing releases a new product, one definitely tends to sit up and take notice.
*It should be noted that, at time of writing, Malwarebytes Anti-Rootkit is in Beta stage so not really suitable for general use.
Download is 12.4MB (zipped) extracting to 21.0MB. Simply locate "mbar.exe" in the extracted folder and double click to run (no installation required):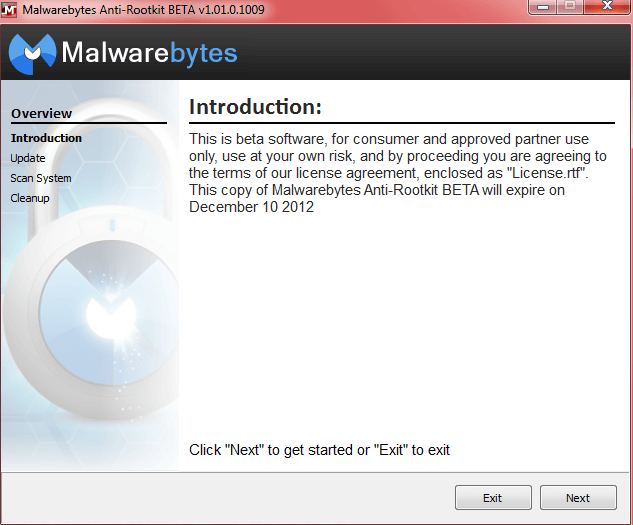 Clicking Next takes the user through each step as listed in the left hand panel; "Update" first, on to "Scan":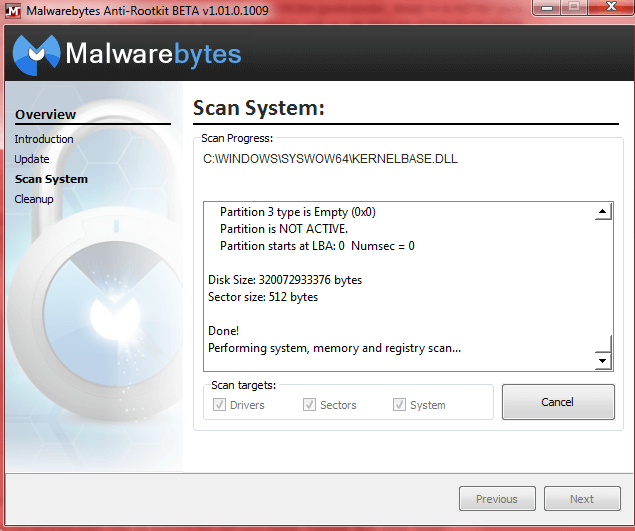 And finally "Cleanup":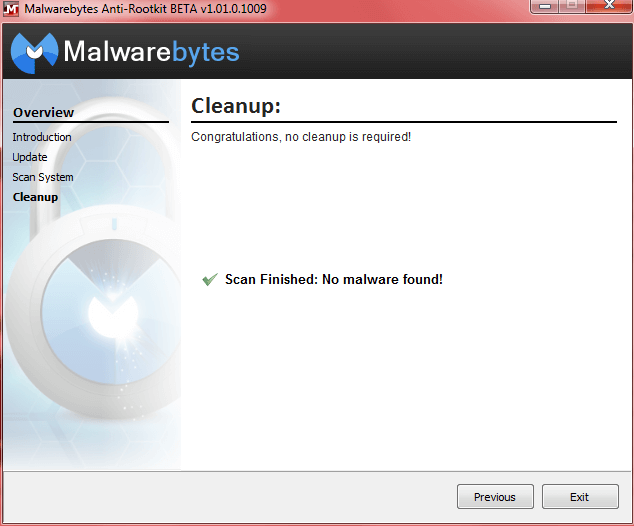 Time to completion on my Win7 Home Premium 64-bit system was around 6 minutes and, as you can see from the screenshot, Malwarebytes reported a clean bill of health.
As I said, there are already several good anti-rootkit programs around but these always seem to come with certain limitations. For example; Kaspersky TDSSKiller is easy to use and effective but doesn't cover a huge range of rootkits. Avast Anti-Rootkit does a good job but it's command-like interface and output log files may be difficult for many users to understand. GMER also does a great job but is definitely more suited to advanced users.
I suspect that, coming from Malwarebytes, this new Anti-Rootkit software might just end up being the pick of the bunch. I guess we'll know better as the 'experts' test the software and publish their findings/reviews.
For now anyway, Malwarebytes Anti-Rootkit is free, I certainly hope it stays that way. Seeing how most all other similar software is free, I can see no reason why it should not.
Definitely one to keep in mind for the toolkit!
—-